WP QUADS PRO – Quick Google AdSense Integration for WordPress
WP QUADS PRO – Save time & earn more with next level AdSense integration!
Unlimited Ads – Add an unlimited amount of ads to your website.
AMP Ads – Add ads on your AMP page.
Responsive Ads – Individual AdSense sizes for Desktop, Phone and Tablet devices.
Visibility Conditions – Select AdSense visibility on mobile, tablet and desktop devices.
Automatic Ad detection – WP QUADS detects optimal ad sizes for all devices.
High Performance – Developed well to keep the speed of your site.
Google Auto Ads – Add new ad format Google Auto ads to your website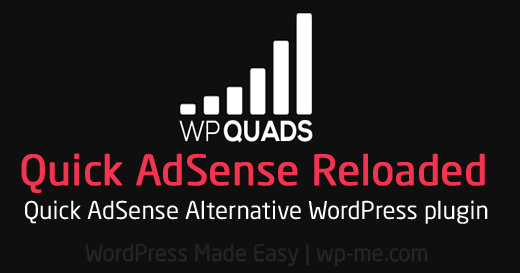 Quick AdSense Integration for WordPress. See the features below and learn why more than 60.000 websites trust WP QUADS.
AMP Support: Show AdSense adverts with a simple click on your Accelerated Mobile Pages (AMP)
Responsive Ads: Your ads fits perfectly, no matter if your website is visited on mobile, table or desktop device. Choose specific ad sizes for any device or use automatic mode to detect best ad size.
Conditions: Specifiy if ads are shown on mobile, tablet or desktop device. Hide & show ads on custom post types and user roles
Caching Power: Supports WP Rocket, W3 Total and any other Caching plugin.
Extensive Help: Ask an AdSense Expert and get answers to your questions quickly.
More Layout Options: Define margin separately for all four directions around your ads (top, right, bottom, left).
Play by the rules: Add the word "Advertisements" above or below any ad
High Performance: Speed and fast loading times are important for user experience and search results. WP QUADS is developed well and keeps the speed of your site.
Simple Setup: We focus on important stuff and keep it clean and simple. WP QUADS Pro makes it extremely easy to deliver well converting ads to your audience.
Ad Blocker Detection: Detect if your visitors are using an ad blocker and show them a customizable message. Plus, Google Analytics integration to measure how many of your total visitors are using ad blockers.
Best part comes last: Unlimited Ads Support
Add as many ads as you like to your WordPress website. There are no limitations.
WP QUADS PRO lifts the 10 content ads limitation of the free version.