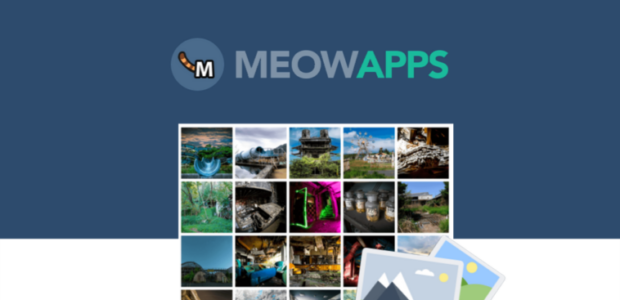 Meow Apps is a developer of various WordPress components that join forces with a single purpose: to increase the productivity of our WordPress site. From SEO plugins to photography components, Meow has everything to make our WP even more charming. In this note we make a brief synopsis of each tool. Here are the most popular plugins form Meow Apps:
1. Meow Apps Media Cleaner Plugin
Clean your WordPress from useless files in your filesystem, and unused entries in your Media Library. This extremely powerful tool has been perfected and even rewritten completely through the years and numerous collaborations. You will love it – and if you don't, let me know! I will make it better for you.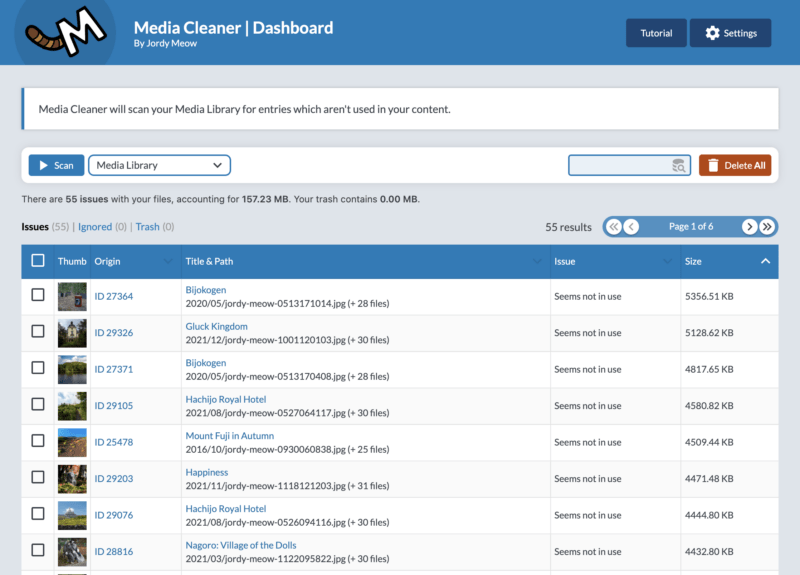 Meow Apps Media Cleaner Plugin Free & Pro Versions
Meow Apps Media Cleaner Plugin Free Version
Media Library Scan – Detects which media entries (images, PDFs and other files) aren't used, and deletes them.
Powerful Analysis – The analysis goes through your posts, meta, widgets, and more.
Meow Apps Media Cleaner Plugin Pro Version ==> Visit the Pro Version
Everything from the Free Version
Filesystem Scan – Analyzes the files directly. It's recommended to remove all the ones which are not referenced in your Media Library.
Handle More Plugins – The content created through pagebuilders or complex plugins will be analyzed.
2. Meow Apps Media File Renamer Plugin
Media File Renamer is a WordPress plugin that renames your media files. It can be automatic (depending on certain conditions) or manual. It is excellent for SEO, to keep your WordPress tidy and to avoid issues related to files. The references to those filenames on your website will also be updated. It has many features, and if you are a developer you can automate the whole process and how the renaming is performed.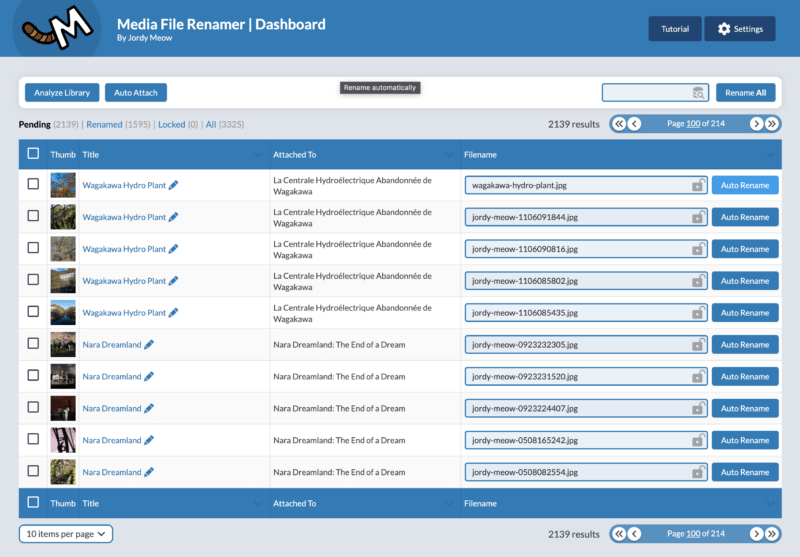 Media File Renamer Plugin Free & Pro Versions Features
Media File Renamer Plugin Free Version
Auto-Rename – When the title of a Media entry is modified, the files are renamed automatically.
Manual-Rename – You can edit your filenames from the Media Library, the Media Edit screen, or the Renamer Dashboard.
Lock & Unlock – The media entries can be locked to avoid further renaming (or undoing). Check the tutorial to know more.
Undo button – There is an issue? You aren't satisfied with the filename? Here is the Undo button!
Ultra-customizable – There are many filters and actions which developers can use. If you need to customize the way the files are renamed, or if you need to start the process at specific times, you can do it.
Media File Renamer Plugin Pro Version ==>> Visit the Pro Version
Everything from the Free Version
Transliteration – Advanced transliteration which has been built on thousands of different use cases.
Additional Auto Methods – Additional methods for auto-renaming your files. Based on the Post Attached Title (Product, for example), Anonimization, ALT text, etc.
Numbered files – If the ideal filename already exists, a number will be appended, and increased if needs to be.
SQL Logging – Every SQL requests performed by the Renamer will be logged, as well as the anti-requests (for rollback purposes).
Sync Meta – Some of your metadata can be synchronized with the title of the filename automatically.
3. Meow Apps Database Cleaner Plugin
If you are looking for the best database cleaner for WordPress, this is it! Database Cleaner will clean and optimize your database thoroughly, swiftly, through an easy or expert mode, depending on your expertise. Database Cleaner also works on huge databases, which is not the case of any other plugin!
Database Cleaner was build based on the success of this brother Media Cleaner, and years of experiences and issues using the other database cleaners. We felt like it was time for a new one, well-made and powerful. The plugin was released in 2022, but it is already perfectly stable. Please enjoy it 🙂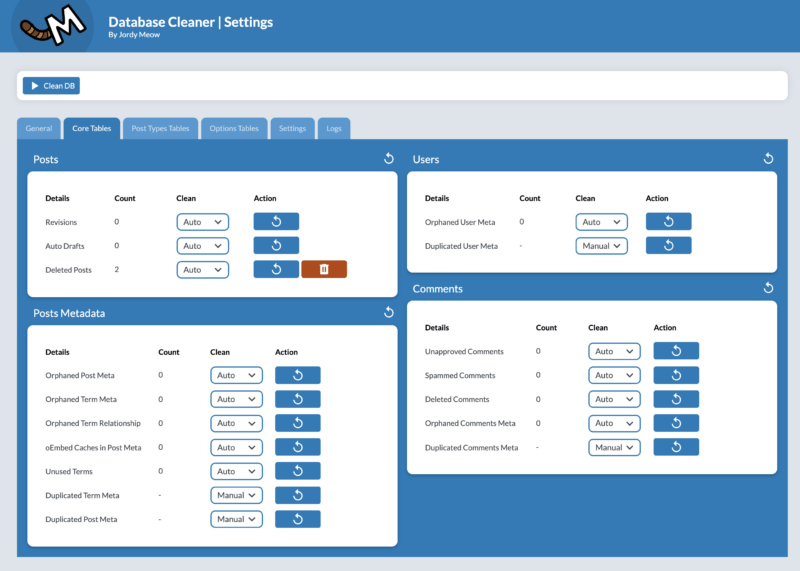 Database Cleaner Plugin Free & Pro Versions Features
Free Version
Delete useless Data – Old revisions, trashed posts, useless metas, useless relationships, useless users, useless comments, transients, etc.
Delete useless Tables – You'll be able to check which tables are known, unknown, or actually useless.
Handle useless Options – You'll be able to check which options are used, and toggle their autoloaded status.
Handle useless Post Types – That's what most often slows down your WordPress the most!
Pro Version ==> Visit the Pro Version
Everything from the Free Version
Enhanced "Used By" column for Tables, Post Types and Options
This column will try its best to tell you by which plugin this item is normally used (installed or not).
Automatic Auto-Clean – The cleaning will be done regularly, little by little, without any stress or slowing-down your install.
4. Meow Apps AI Engine Plugin
Ready to take your WordPress site to the next level with AI? With AI Engine, you can easily generate content, try out a variety of tasks like translation and correction in our fun AI Playground, add a ChatGPT-style chatbot to your website, track the AI usages, set limits, etc!
You can also create datasets and fine-tune AI models to make your website even more awesome. And don't worry, we've got you covered with an API for other plugins to tap into. Give it a try and see the magic for yourself. And more importantly, enjoy it 🙂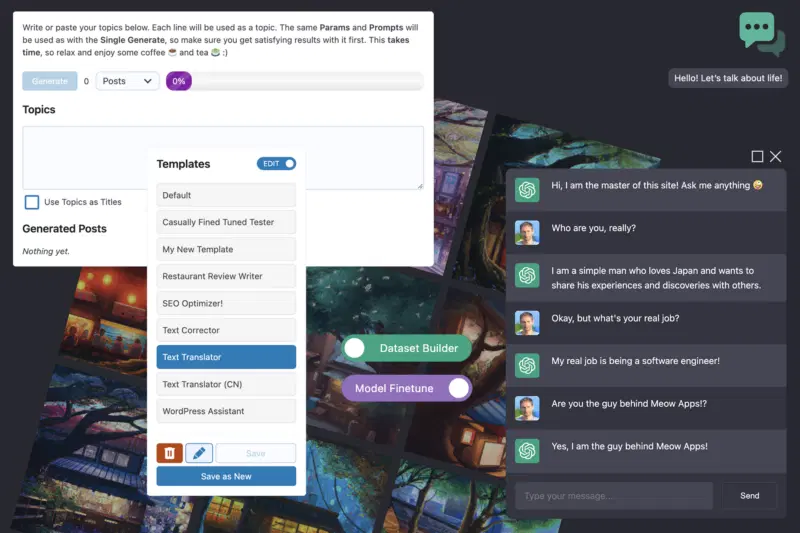 AI Engine Plugin Free & Pro Versions Features
Free Version
Chatbot (GPT-like) – Add a chatbot to your website. Images bot included, shortcode builder, many, many parameters and possibilities.
Content & Images Generator – Generate fresh and engaging content for your site, as well as images.
AI Playground – Variety of tools like translation, correction, discussions, etc.
Templates System – Create your own templates for the Playground, Content or Image Generator. That will make your work even easier!
Train your AI – Nice UI to edit your datasets, train your AI models, and manage your fine-tuned models.
Casually Fined-Tuned – To ease AI training and integrating fine-tuned models, AI Engine created the concept of "Casually Fined-Tuned" which is an option/feature you can use in different parts of the plugin, and will do everything for you.
Quick Suggestions – In one-click, you can get recommendations and apply them (titles, excerpts, etc).
Internal API – Everyone can use AI Engine API! Gather the risks and the statistics in one place.
Pro Version ==> Visit the Pro Version
Everything from the Free Version
AI Forms – Create dynamic forms that will generate answers.
Embeddings – Create manually or dynamically an index (= database) of knowledge. The AI will use this to build its answers.
Content-Aware – The chatbot will be aware of the content of the current page, and be able to discuss/analyze it.
Statistics & Limits – Keep track of every AI requests, helpers to get statistics, and allows you to set limits and conditions to the AI usage.
Much more to come… Lot of features are in a development! ✌️
5. Meow Apps Perfect Images Plugin
Take control of your images with Perfect Images! This powerful plugin helps you optimize and manage your images with ease. Easily replace or regenerate existing images in bulk, set custom sizes, improve performance, and create retina versions for high-quality displays. Plus, with features like CDN support and the ability to disable the image threshold, you can fine-tune your image management to suit your specific needs. Perfect Images is fast, does not create any new tables in your database, and is fully compatible with other plugins.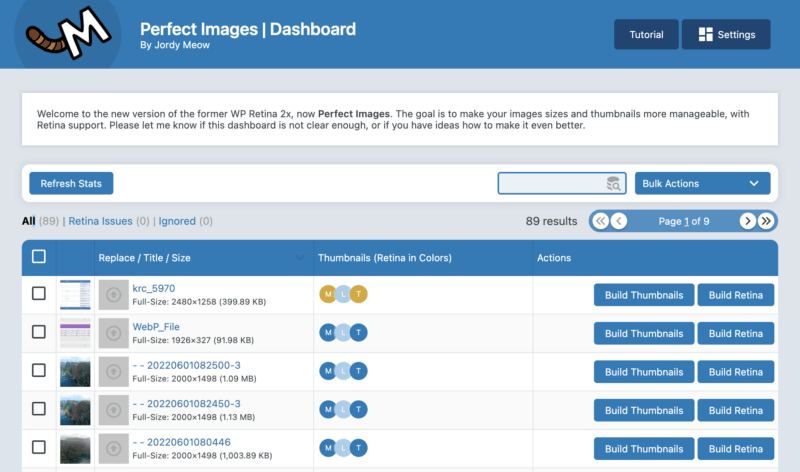 6 . Meow Apps Social Engine Plugin
Organize, schedule and automate the publishing of your content and photos on social accounts. If you have ever used TweetDeck, Buffer, ContentCal, Falcon, Loomly, etc. Social Engine does the same thing; the difference is that you own the entire system, it runs in your WordPress, it has no limitations. You are completely independent from a third-party service (except the SNS themselves, of course), and you can extend it at will!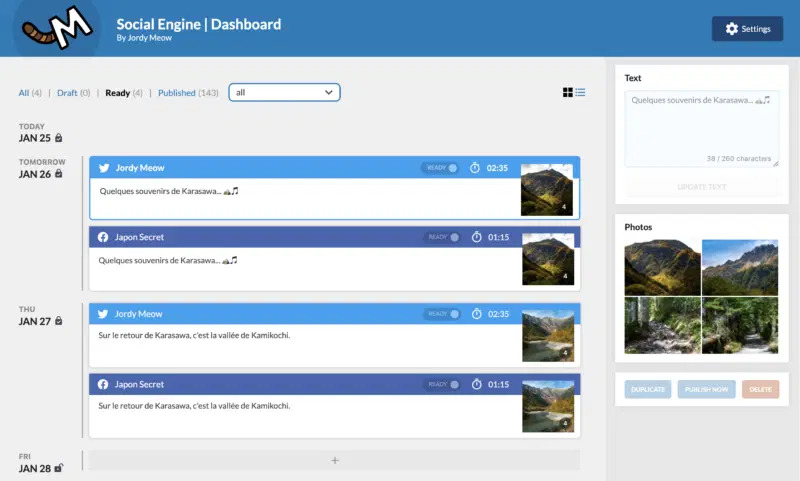 Download | More information | Visit the Pro Version
Currently, it supports:
Instagram
Facebook
Twitter
Mastodon
LinkedIn (Pro Version)
Pinterest (Pro Version)
Current features:
Plan your SNS Posts with a pretty UI
Create Post with Photos
Automatically schedule your WP Posts
Select images which has never been published on SNS
Revive your old content
Draft Support (Pro Version)
Statistics, such views and likes (Pro Version)
Revive Posts or Pages (Pro Version)