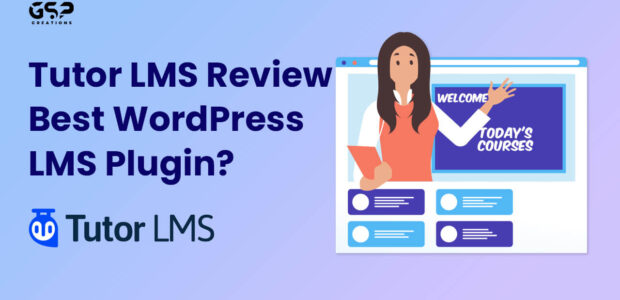 What is Tutor LMS?
Tutor LMS is the Best WordPress LMS plugin that makes the process of creating courses more user-friendly. It comes with a drag-and-drop course builder as well as a 10-question advanced quiz creator. Multi-instructor reports, assignments, course prerequisites, certificates, email, course preview, and more are among the useful addons. Multiple payment gateways can be used with WooCommerce and Easy Digital Downloads. With Tutor LMS, you can keep track of course progress, revenue, and purchase history.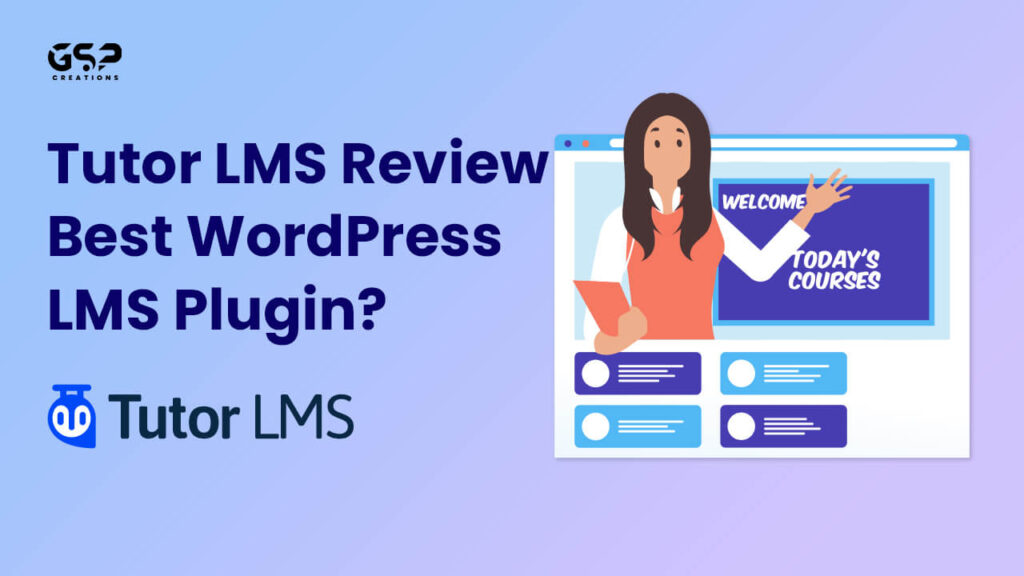 === Click Here To Get Tutor LMS Plugin Today ===
Tutor LMS includes all of the features needed to build a fantastic e-learning platform similar to Udemy or Coursera. Quiz, question, and dashboard features enable training centres, educational institutions, and even individuals to create a platform in the shortest time possible.
Reports, certificates, course previews, and private file sharing are all included in the premium version of Tutor. You'll also be able to add course prerequisites with the premium version. You'll also have a few extra features for a proper course preview, such as the ability to enable/disable course preview and the ability to add multiple instructors to a single course.
Installation
The free version of Tutor LMS is very easy to set up. The WordPress.org plugins directory has a free version available. You can also install Tutor LMS from your WordPress dashboard if you follow these steps:
Navigate to your WordPress Dashboard
Go to Plugins > Add a new item and search for "Tutor LMS" in the search field.
Select Tutor LMS from the drop-down menu and click "Install Now."
Installing the Pro Version
Tutor's pro version includes a plugin (zip file) and a licence key. Please keep in mind that in order to use the premium version, the free version of Tutor LMS must be activated. So, first and foremost, go to https://www.themeum.com  and buy the Pro Version. You'll notice a download button right next to it. Once you've downloaded the plugin, follow the steps below to successfully install Tutor LMS Pro.
Navigate to Your WordPress site Dashboard.
Go to Plugins > Add New.
Right beside the "Add Plugins" button at the top, there is an "Upload Plugin" button; click on it.
Click on "Choose File" to select a Zip file from your computer, or simply drag and drop the Tutor LMS Pro zip file, then click "Install Now."
To use your licence key (which you can find on your Themeum account dashboard), go to Tutor LMS > Tutor Pro License, type it in the text field, and then click "Connect with License key."
Features
On a high level, Tutor LMS allows you to create and sell online courses that include:
A drag-and-drop course builder.
Content restriction.
Quizzes and a quiz creator.
Course reviews.
Special integration for videos in courses.
Course certifications.
Monetization is integrated via WooCommerce or Easy Digital Downloads.
Instructor support, such as the ability to pay instructors a commission and allow them to withdraw their earnings.
Separate student and instructor dashboards for front-end management.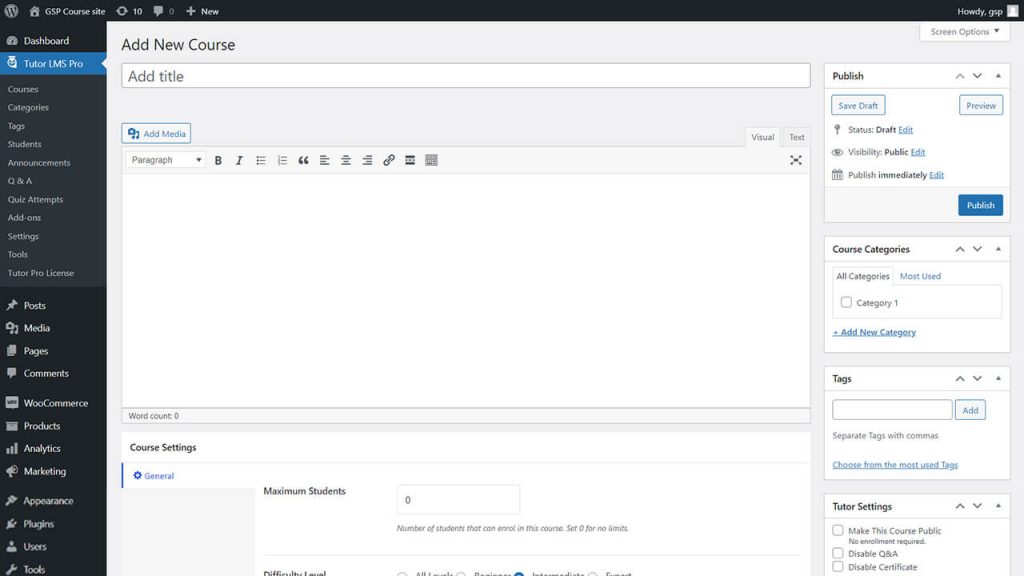 One of the most distinctive features of Tutor LMS is its emphasis on other instructors. You can create an online course marketplace that includes course options from third-party instructors rather than just selling your courses. Essentially, it allows you to use WordPress to create your own Udemy site.
Tutor LMS is available in both a free and a paid version.
The free version is quite generous, providing you with all of the essentials for running courses. Even if you don't pay a dime, you'll have access to:
Unlimited lessons and courses, as well as a course builder.
Support for video players.
Most quiz features, such as limiting quiz attempts, assigning a passing grade, and setting a time limit.
Easy Digital Downloads or WooCommerce for monetization.
If you upgrade to the premium version, you'll gain access to additional features such as:
A course creator for the front end. For example, instead of requiring instructors to use the WordPress dashboard, you could allow them to create their courses.
There are more types of quiz questions.
Detailed reports on the performance of your courses.
Notifications via email
Assignments are due.
The ability to set prerequisites for courses.
Multimedia attachments.
Course previews.
=== Click Here To Get Tutor LMS Plugin Today ===
Course Builder
The backend course builder in the Tutor LMS is drag-and-drop. But it also includes a frontend course builder. As you create courses, this one gives you a better idea of how your site looks on the frontend.
Both the frontend and backend have the same functionality. You don't even need to go backend to publish a course as an administrator. Simply click the "Publish Course" button, and your course will be made public.
Quiz Creator
The quiz creation process is critical to the success of your entire course. Quizzes that are fun to solve, challenging, and interactive are popular among students. By introducing ten different question types, Tutor LMS makes this possible.
There are also other options that might help you develop a quiz that is specifically tailored for your eLearning site. For each quiz, you can change the order of the questions. You can optionally include a description with your quiz.
This will provide your students with a better understanding of the quiz as well as additional guidance. There's also the option of showing individual marks for each question. Define the passing grade and whether or not students should be able to see it.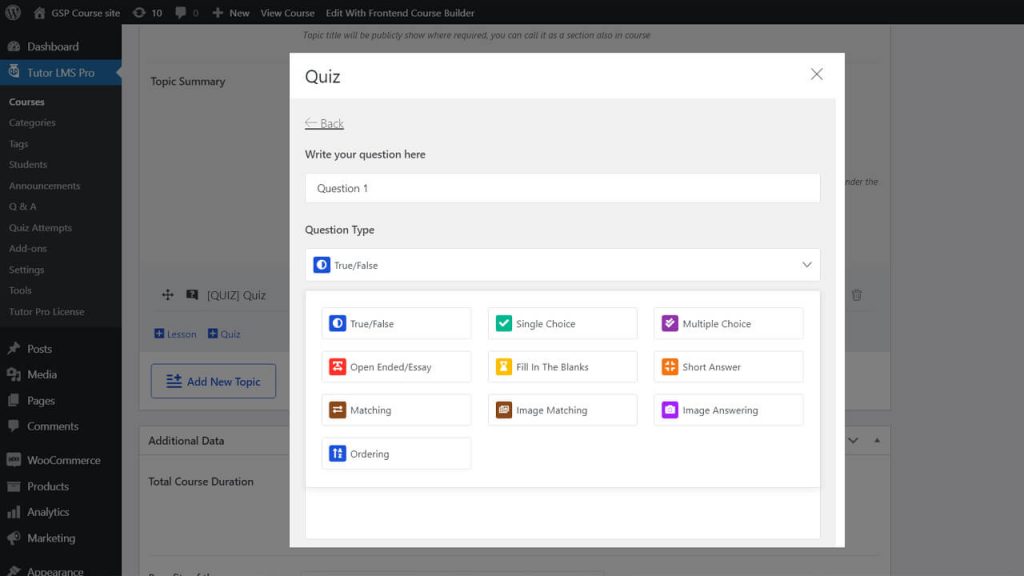 Reporting and analytics
Managing and selling online courses is similar to managing and selling any other type of business. It's critical to understand the state of your company's operations using numbers and statistics. The information you're getting about your website can help you come up with new and creative ways to improve your business and boost profits.
Tutor LMS, on the other hand, includes an innovative Tutor reports add-on. Enabling this add-on will provide you with useful information that will aid in the proper analysis of course performance.
The LMS plugin can generate reports based on a variety of parameters. It allows you to view course analytics using time filters that you define. You can also look up the number of students enrolled in a particular course on a specific date. You can also access data on course popularity, student reviews, and information on the most recently registered students all in one place.
Tutor LMS is smart enough to keep track of all your available courses, track their progress, and provide up-to-date analysis on their effectiveness and level of engagement.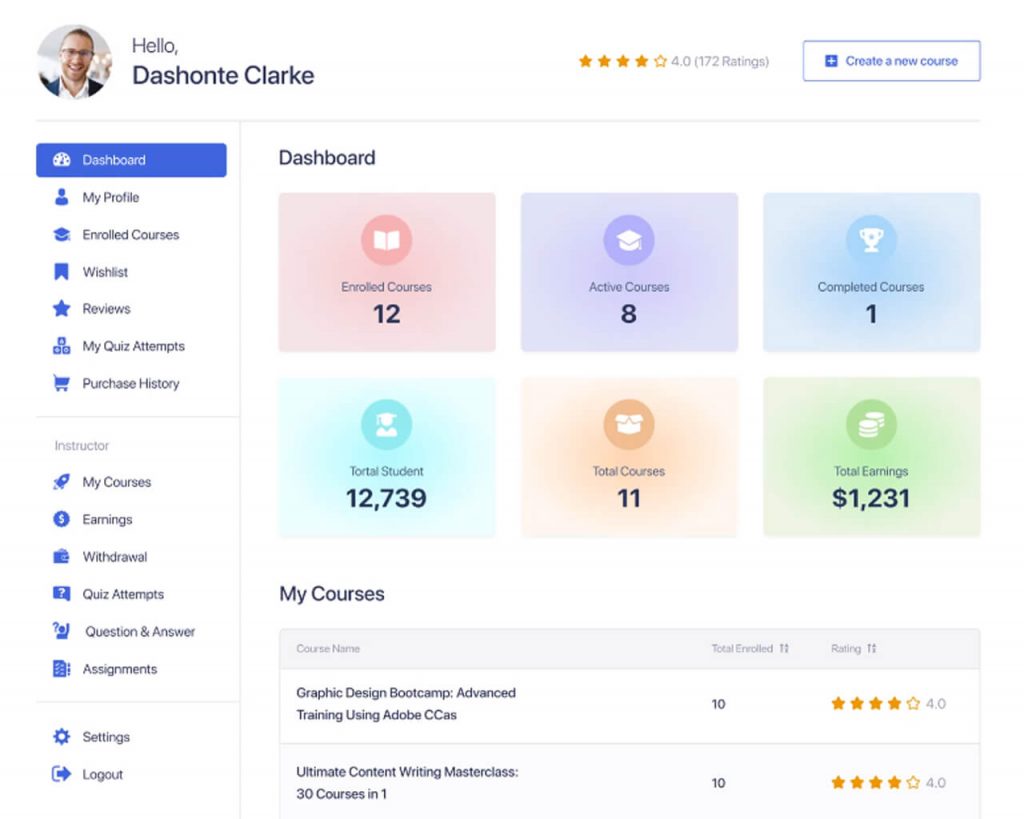 Earning
When your site has multiple instructors, the topic of earning or commission distribution arises. The site administrator may simply distribute money using Tutor LMS.
You can set the admin commission % and teacher admission percentage once you activate income.
There's also the option of subtracting any fixed fees. In the settings, you can also choose how many earning statements you wish to see in your dashboard.
Course Completion Certificate
Receiving the certificate at the end of any course is the nicest part for any student. Multiple certificate templates are included with the Tutor Certificate extension. You can customise the template by filling in your Authorized name, Institution name, and signature.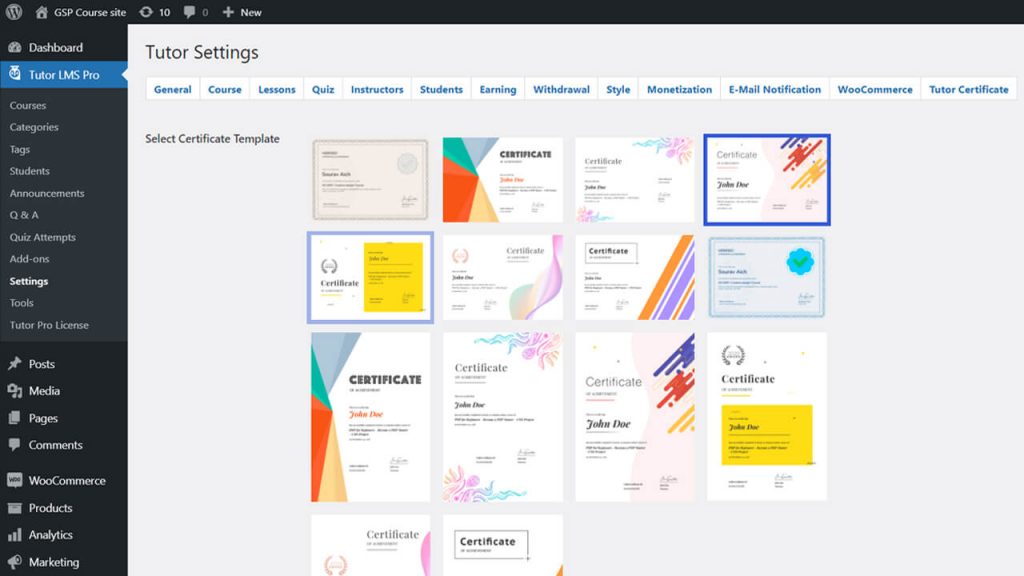 It's also feasible to create your certificate template and upload it. Certificate Customizer for Tutor LMS is a plugin that shows you how to customise a certificate on your own.
=== Click Here To Get Tutor LMS Plugin Today ===
Certificate customizer for Tutor LMS
In this New Tutor LMS Certificate Builder, you will receive 25+ pre-made templates (both horizontal and vertical) that have been developed from the ground up to satisfy the needs of every type of LMS. Tutor LMS Certificate Builder provides it everything, whether you're looking for a pre-built template to award your online kid's learning platform or certificates that are acceptable for a business skill. The most incredible thing about the pre-built templates is that they are all completely adjustable. That is, they have been created using the same parts and shapes that you can use to create your certificate from scratch.
To use the Tutor LMS Certificate Builder, you must have Tutor LMS Pro installed and enabled. The good news is that the Certificate Builder is free for all existing Tutor LMS Pro subscribers.
Draggable Certificate Elements
You'll be happy to hear that you'll get a wide choice of elements from which to design your certificate from scratch or work on an existing template. Text, Course, Student Name, Instructor, Signature, Verification ID, QR code, Point, Grades, and Time Duration are all items that can be added.
And also, you can use the many media from Unsplash, and you can use some cool shapes, icon library and backdrops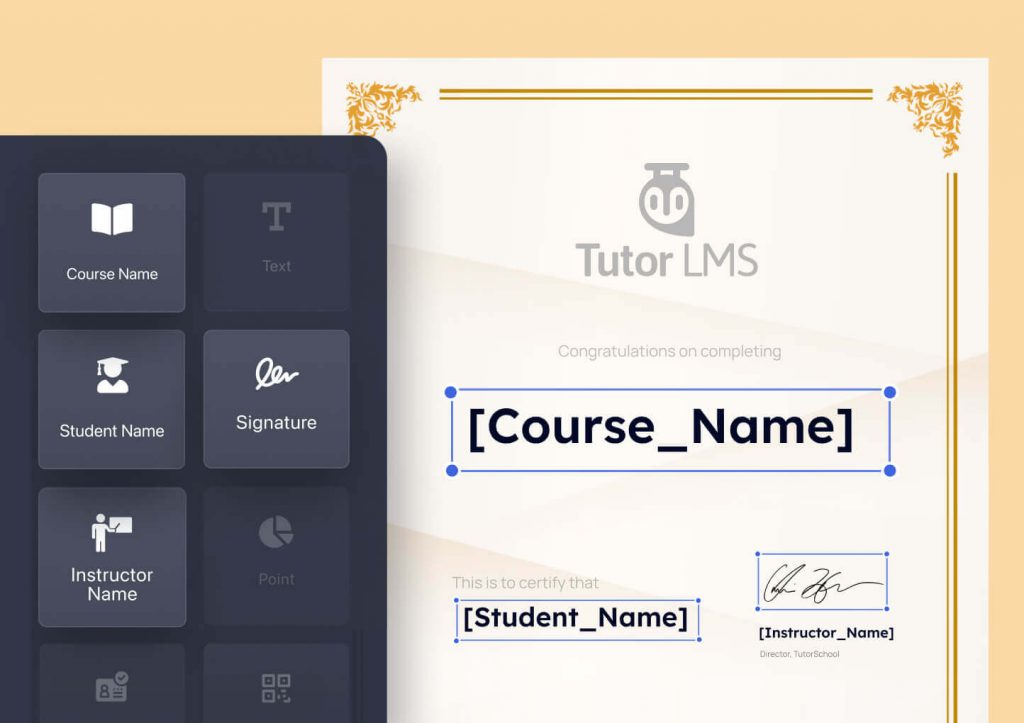 Drag & Drop Certificate Builder
Are you used to drag-and-drop builders? Like Canva, Elementor or Brizy, Then you'll enjoy Tutor LMS Certificate Builder. It approaches the certificate-building experience in the same way. Simply drag and drop the elements you wish to utilise, edit them, and then publish them. Not only for those people, if you are new to start with this, but it will also be more flexible to you to create it
If you need more details about each element in this certificate builder check these blogs
Announcing Tutor LMS Certificate Builder
How to Design Certificates For Your eLearning Courses (Step by Step Guideline)
Tutor LMS 2.0
They've introduced a better upgrade to Tutor LMS 2.0 to build and develop LMS websites with consistency and speed. Everything about the Tutor LMS will be more polished and current, including the buttons, colours, typography, and tone.
The user interface has been improved.
A scheme of unified design
More accessible and inclusive
Colour uniformity has improved.
Unparalleled eLearning expertise
And also some notable significant improvements are New Notification Features and a More Organized Dashboard!, New Email Templates Editor, Advanced Analytics for Next-Level Insights, New Event Calendar, New Assignments Options, and a Brand New Quiz Builder Interface.
New email template editor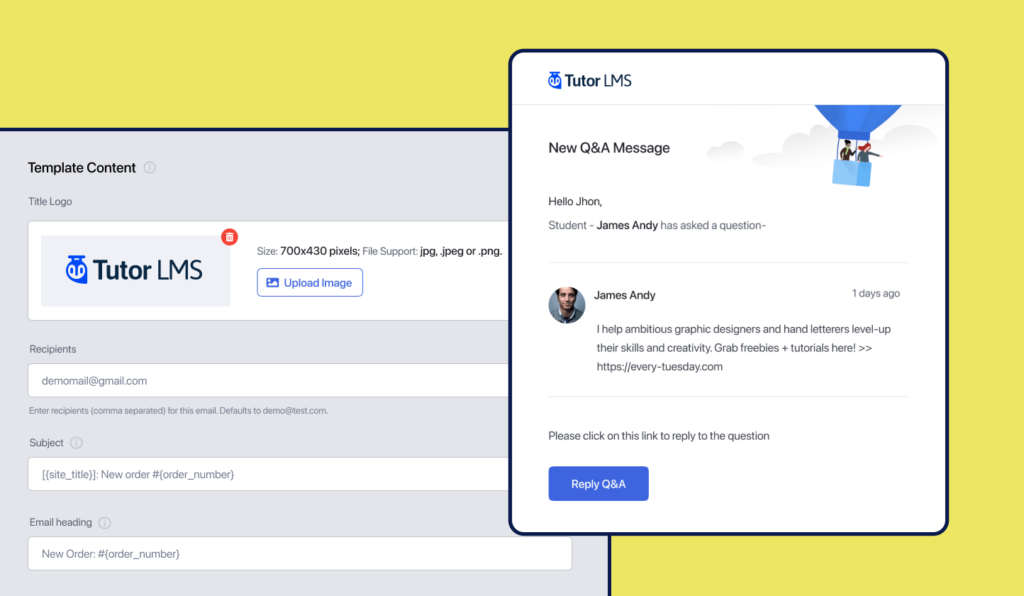 === Click Here To Get Tutor LMS Plugin Today ===
A built-in email template editor for certain events is now available through Tutor LMS. Use a simple editor to customise the email's heading, title, and entire body. To save time, you can utilise and modify pre-made email templates. and also there are some notable features like
Personalized dashboard for instructors and students
Notification bar on top of the dashboard
Improved Analytics with more extensive statistics
New Q&A features for instant and more engaging communication
Event calendar with handy features to organize and schedule assignments
Preview certificate before downloading upon completing the course
Dynamic membership plan on the right sidebar of the course details page
Pros:
Simple and easy to use
Free Version Available
More Features
Drag and drop Builder
Lifetime licenses available
Cons:
The features of the free version are quite limited.
Support only includes emails and live Chat.
Tutor LMS offers both annual and lifetime subscriptions. You'll be able to choose between six different plans. With a one-year pricing plan, you'll get year-round support and updates; the lifetime package will cover you for the rest of your life.
One Year Licence Plan
1 site — $149.00
5 sites — $199.00
Unlimited sites — $299.00
Lifetime Licence Plan
1 site — $399.00
5 sites — $599.00
Unlimited sites — $999.00
=== Click Here To Get Tutor LMS Plugin Today ===
Final Thoughts
The developer, Themeum, has created a very polished plugin. The back-end interface is user-friendly and allows you to create course content without opening a million tabs, as some other plugins required. Besides that, I believe that the front-end experience for course participants is excellent right out of the box. I particularly enjoy the Udemy-style lesson viewer, which includes a fantastic Q&A feature. With this Review, Try the Pro version of Tutor LMS. This plugin also works with Elementor so that you can create your course design. If you are going to start an E-Learning WordPress website, try this out.