Themify Review – A Diverse, Versatile and Highly-Capable WordPress Theme Shop
Looking for that perfect WordPress theme? It's easy to get lost, I know — but choosing the right theme can literally make or break your site's chances of success, so it's definitely not a decision you'll want to take lightly.
The problem: With so many thousands of themes out there, it's difficult to settle on just one. I've lost countless hours to analysis paralysis while theme hunting.
If you're struggling to find a theme, this post may have come at just the right time, as I'm going to introduce you to one of the more popular places to buy WordPress themes: Themify.
Throughout this post, I'm going to be covering all the important Themify information, including pricing, theme features, plugins, and support quality.
Let's dive in.
What Is Themify?
Themify was launched in 2010 by cofounders Nick La (whose original claim to fame was as founder of the insanely successful Web Designer Wall website) and Darcy Clarke. Very few WordPress businesses can claim to be in their sixth year, making Themify one of the oldest and most respected theme sellers in the WordPress world.
The goal for Themify was simple: To develop beautiful WordPress themes and powerful plugins. Its collection of themes and plugins can be bought individually, meaning Themify can sit comfortably under the umbrella of WordPress theme shop.
However, Themify primarily operates as a WordPress club, meaning you can pay a yearly subscription in return for access to all of its products — a popular way for people who run multiple websites to purchase WordPress products.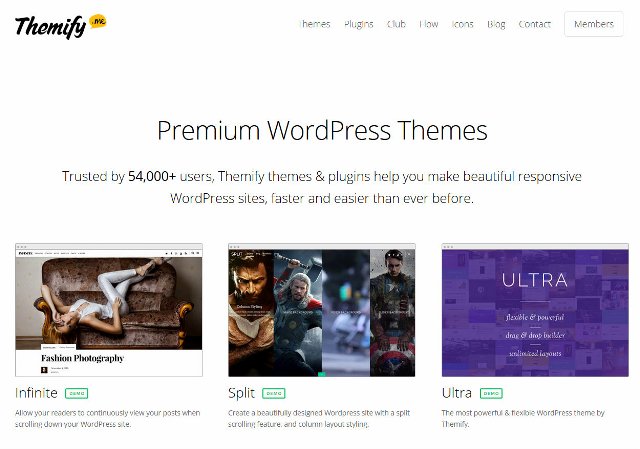 WordPress clubs, such as Themify, are popular for plenty of reasons. If you're a site-building professional, you get to offer your clients a wide range of options; if you're a hobbyist site builder, you can try out your website in a number of guises before settling on a favorite.
For those looking to try Themify before signing up, it also offers a small collection of free themes and plugins on the official repository.
Themify Pricing
Let's start by discussing the price of the products.
To keep things simple, Themify offers flat pricing of $49 on individual themes. (Note: There is currently a two-for-one offer on all single themes.)
Because some plugins are more complex than others, more price variation is to be expected, with Themify's offerings costing between $19 and $39 each. Plugin add-ons cost $10 each (with plugin add-on bundles available).
These are relatively standard prices in the WordPress world — neither cheap nor overly expensive. Take a look at the major WordPress marketplaces and you'll see products priced in the same ballpark.
However, if you're prepared to part with slightly more money, you can get far more bang for your buck. Club memberships offer outstanding value, with Themify Club memberships coming in four flavors:
Standard ($79 a year) — all themes.
Developer ($99 a year) — all themes and Photoshop files.
Master ($139 a year) — all themes, Photoshop files, and plugins.
Lifetime Master ($399) — lifetime access to everything.
All options include full support for the duration of the membership. They can also be used on an unlimited number of websites, which means agencies can use Themify products on their clients' sites.
Which license offers the best value? Well, that depends on how you plan to use it.
(Note: Most of the Themify plugins are standalone versions of features used in the themes. If you only plan to use Themify themes, you may actually already have access to a lot of this functionality. In this scenario, you could potentially save yourself some money by opting for the standard membership.)