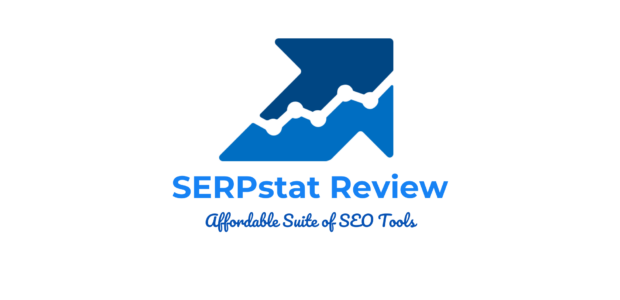 Keyword research is the backbone of any good online marketing strategy. Often good keyword research tool is all you need to make a solid impression on the SERPs.However, the times are changing, and as more and more sites invade the SERPs, it is crucial to up your game, so you stay ahead of the pack and on top of the game.

And upping your game means nothing more than you learning like crazy and investing in an all-in-one-SEO toolset.

But which one to pick?
Moz?
SEMrush?
Ahrefs?
Mangools
All of them?
The problem is that they're costly, even if you're not on a budget.
And if you are- forget about it!
Of course, the solution is not to give up but to find a more affordable tool that can get the job done without breaking the bank.
Here comes SERPstat, an all in one SEO platform.
In this review, I've covered everything you need to know about it.
Serpstat is an all-in-one SEO platform that evolved from a simple keyword research tool in 2013 to a veritable competitor for Ahrefs and SEMrush.
Serpstat Features – Things That Make it Awesome
Go and open a free account.
Now log in, and the first thing you'll see is an intuitive, clean, and lean dashboard, with a pleasant and soothing to the mind color pallet.
On the left sidebar are Serpstat features worth exploring? And I'm going to write this Serpstat review while using the free version of the tool, just to show you what Serpstat is capable of, and so you don't have any excuse not to at least try it at the end.
Domain Analysis
After Serpstat has finished analyzing a domain, we are presented with a slew of data, and right off the bat, you can see:
How much traffic the domain is getting from Google
How many total keywords they are ranking for
Keywords recently won
Keywords recently lost
Their paid keywords
Their sub-domains
And each of these reports overview leads to in-depth reporting.
For example:
When I click on the "new keywords" tab, it scrambles to show me the l the keywords the domains has recently conquered.
This is useful because new keywords won usually means new pages in the index are instantly ranking for new terms.
And if a new page can rank quickly, then it means that Freshness Factor is crucial for that query, while link equity (Page Rank) is not.
That is a chance for you because freshness is made as soon as you publish a new page.
Much easier than acquiring new backlinks.
But we're not done yet! Everything you just saw was info above the fold.
But what about below the fold?
When you scroll down till the end of the page, you can see:
Visibility trend for the year –good to keep an eye on because this is the easiest way to spot a penalty or significant algorithm update.
Top-performing pages on a domain– so you know what to steal first!
Major competitors overlaid on a beautiful chart.
Overall, Serpstat gives you a very nice and clean overview of where you are and whom you'll have to beat in the SERPs if you want to rank.
Before we go into URL analysis, let's quickly jump to the Infographics tab.
Here you can see all data Serpstat has about a domain you're analyzing but given in graphs and charts. It's the same data but more visually aesthetic and effective.
URL Analysis
Right of the bat, you can see the total number of keywords and keyword distribution chart.
But the real gold is in the left sidebar, where you can dig deeper into reporting.
Let's got the keyword overview section for a moment.
There you can see all the keywords that the page ranks for. And next to each keyword, there are metrics to pay attention to.
Things like:
Keyword difficulty
position
Volume
Traffic
PPC cost
Here, special mention goes to Special block features, which is basically Serpstat showing you how crowded the SERPs are.
If beside 10 classic blue links, Google is showing:
images,
videos,
People Also Ask Boxes
and Featured Snippets,
then you know that the keyword is best avoided. Then you know that even if you were to rank number #1- you'd get a measly CTR for your hard work.
At the top of the keyword report, you can see a bar that shows you the data for SERP rankings for each country in the world.
Serpstat is unique among all other SEO tools because they have data from all 230 Google databases globally, which means they can show you how you rank in pretty much any country or territory in the world.
Very cool.
The neat feature and the one that rivals the SEMrush keyword gap feature is the Missing keywords feature.
This shows you all keyword your competitors are ranking for, yet you're not to be found. Even though you should be.
And once you have that data, it's just the matter of going back and updating that page with those keywords, and BAM! You can get a slice of that traffic pie.
Note:
You might or might not know this, but the URL we're analyzing is one of the most linked-to pages on the web.
It has tens of thousands of links from thousand of linking domains.
Forget relevance. This page could rank for pretty much anything based on authority alone. Yet, it's missing some keywords because it is a content marketing definition page, and as such, it has to be short (about 500 words in total).
Perhaps brevity is its link magnet appeal?
Finally, there's a competition tab where Serpstat shows you who you have to beat on the first page.
This is mainly useful because you can get those URL's analyzed, and once you have the data on them, you have a road map before you. Generally, to beat anyone in the SERPs, you just have to copy what they're doing, only slightly better.
Backlink Analysis With SERPstat
You might have noticed that when I talked about how huge the link profile of that content marketing page is- I didn't show you an image.
That is no accident.
Serpstat doesn't offer backlink data on the per-page level, only on a domain level.
So if you go to backlink reporting and enter the URL we analyzed earlier, it will revert to the domain that hosts that page, and it will show you all links and referring domains the whole site boasts.
This will not do.
It is much more important to gauge the link strength of the page you're competing against than a domain that hosts it.
And that is because Google ranks pages, not domains, and you'll compete against other pages in the SERPs.
This is a big letdown. This makes Serpstat backlink analysis a complete miss tool and best to be avoided.
I mean, You can glean more value from a free backlink checker over at Ahrefs even though the free tool will show you one link per referring domain.
This is a big con for SERPstat, nothing more to say.
Let's put in a keyword (content marketing).
Ok, no need to scroll right away as we can see the keywords:
Search volume
Number of related keywords
Competition
Organic Difficulty
PPC
There's also a cool popularity graph, which I guess they pull directly from Google Trends.
Nice touch as no use going after a keyword no one's searching for anymore.
And when you scroll down, you can see the site you'll be competing with. And their strengths and weakness as per SERPstat's measurement.
Things like:
Number of backlinks
Number of referring domains
Now, "content marketing" is obviously a seed keyword. The one you start from to reach the delicious long-tail fruit.
In other words,- you want to dig out related keywords and questions people ask about content marketing as a topic.
So, in the left sidebar, go to SEO research search suggestion and then check the box that says "Questions only."
I have to say Serpstat is fantastic for finding a long-tail keyword, the dream of any niche site builder. However, one severe criticism they get from me is that you only get the keywords listed, but not the crucial data you need to make an informed decision.
Instead, you have to click on each keyword individually to see:
How competitive is this keyword?
What is its search volume?
Are there too many SERP features?
This significantly reduces the tool's value as you have to waste a lot of time on this.
Bonus- how to analyze your competition?
I call this a bonus because you have to know your way around the tool to get the info you need.
Your first step is to enter a keyword you want to rank for.
I'll enter "SEO.
Then I'd go to the "competition" tab, which will give a list of competitors that are already ranking for this tough keyword.
Then I'd need to take these sites and run them through SERPstat, one by one.
Things I'd be curious to see are:
Are they growing or plateauing in Search?
Have they been hit with a penalty recently?
Strongest backlinks I can replicate?
Best keyword sand what pages are ranking for them? Can  I steal them?
The point is to get as much data s possible and then make a realistic ranking strategy.
Pros and Cons
I want to cover this Serpstat pros and cons section entirely in bullet points. It is partly a stylistic choice because it provides a nice contrast to the image/text-heavy previous area, and it's because bullet lists are mighty effective in telling you all you need to know.
Note: In preparing this Serpstat review, I took copious notes and tested the tool to no end. I also gathered the pros and cons of other users because many heads are better than one.
Pros
The UI (user interface) is clean and logical. It's nearly impossible not to get around fast, even if you never peeped inside any other SEO tool before
Serpstat is an all-in-one software that does the job and often exceeds expectations. Seriously cuts the need for additional tools.
You can export data in various formats.
Great for quick basic  SEO overview on how your site, pages, and keywords are doing in the SERPs- useful for spotting earth-shaking changes fast (like Google algorithm updates)
There's a Chrome extension that is free to add to Chrome browsers.
It shows you non-localized and non-personalized data. So you escape the filter bubble and see the Search as it really is
Serpstat is superior for finding extra targeted long-tail keywords to pick off- perfect for small niche sites.
All in all, Serpstat is an easy to use tool that can get the job done for you.
Cons
Support can be hit or miss. Sometimes they respond quickly. Other times they're nowhere to be found for several days.
On the other hand, we in Europe have got it easy, as support is nearly instantaneous.
PPC stats are almost always wrong – keyword, competitors CPC's…
Ad preview tool often malfunctions and is nearly 60% wrong- this is a hassle, but you can always manually check the SERPs.
Facebook share counting is useless from an SEO perspective. Google doesn't use social share counts when ranking pages,  so it just feels like it's a useless feature.
The free trial is severely limited. Though this is understandable,- I would have preferred to give full tool access for 3 days before cut off.
My major complaint and the thing I think SEPRstat has to contend with is that they're an all-in-one SEO tool, so they specialize in everything, meaning they're not the best at anything.
Ahrefs is better at finding links.
SEMRush is better at keyword research.
Moz gives more accurate Domain and Page-level link metrics.
So why use SEPRstat then?
Use them because they're right.
You can find great links (and enough of them) with Serpstat to perform an email outreach campaign that will really make the difference,
You can do an excellent site audit that will unearth all kinds of website errors you need to fix pronto.
Finally, you can do a meaningful competitive, and SERP analysis.
They're also cheap.
They offer everything you need for just $69, which is 33% lower than the standard prices for another tool.
For example:
Ahrefs costs  $99 for their Lite plan.
SEMrush costs $99 for their Pro plan
Majestic costs $99 for their Pro plan
Moz costs $99 for their Standard plan.
Serpstat clearly stands above them all as you can get similar results with it and for 33% less money. This means a lot when you're just starting out, and your online business is just absorbing money like a sponge absorbs water, without giving anything in return.
Serpstat Pricing
Serpstat offers a free trial with no time limit. However, you are very limited with what you can do and some tools you don't access. But, it is still more than enough for you to get a feel of what Serpstat is all about.
After all, I did my Serpstat review with the free plan, and that tells you that even limited use of Serpstat has its merits.
Paid SERPstats plans are
Lite,
Standard,
Advanced,
and Enterprise.
And all of them give you 20% if you decide to purchase for an entire year.
Let's briefly cover what you get with each, and the key phrase here is quick.
Lite Plan ($69 per month)
With it, you can:
make 4000 keyword queries per day and get 10,000 results per query.
Track 15,000 keywords for your site and do a competitive domain analysis for up to 500 websites.
So, Lite is best for a one-man team, and the data it gives is more than enough.
Standard Plan ($149 per month)
With SERPstat's Standard plan, you can:
make 5000 keyword queries per day, and for each question, you get 30,000 results to play with.
track 60,000 keywords and look up 1000 domains daily
Serpstat's Standard plan is best for solo users or tiny in-house SEO teams.
Advanced plan ($299 per month)
With Serpstat Advanced, you can:
make 8000 keyword queries daily and get 50,000 results per query.
Monitor 150,000 keywords for your site and look up 1500 websites per day.
Serpstat's Advanced plan is best suited for mid-sized SEO agencies.
Agency ($499 per month)
With Serpstat's Agency plan, you can:
make 12,000 keyword queries per day and get 75,000 results per each query.
Monitor 300,000 keywords and look up 2000 sites per day.
Serpstat's Agency plan is best for enterprise SEO agencies with huge staff and huge demand and resources.
 FAQ – Everything You Want To Know
#1- Where Can I Get The Knowledge Base for SERPstat?
They have an entire Academy dedicate to mastering the tool.
They use their tool all the time, so you're bound to pick up some useful tips, but you will also improve your SEO game, which is never a bad thing.
#2- Where Does SERPstat's Data Come From?
For every metric, they pull the SERPS of the first 10 pages of Google and 5 pages of Yandex and then calculate their metrics score those using their own native
algorithm.
#3- Is Serpstat Suitable For Geo-Targeted SEO?
Yes, it is. They are a rarity amongst SEO tools, if not the only ones that pull data from all 230 Google databases across the entire planet.
So, yeah, whatever country's market you plan to target, SERPstat's got you covered there.
#4- How Fresh is SERPstat's Data?
Due to the insane total size of the database they need to draw info from, basically the whole of Google Search, it is impossible to update the data daily. Not one tool does that!
But "fresh" results from SERPstat's perspective means that data is updated once per month.
However, popular keywords are updated more frequently.
#5- Is It Right For Me?
That depends.
Who are you?
Are you a link builder who lives and breathes link building? Then go with Ahrefs as you can't beat their backlink index.
Are you a keyword research freak who can find long-tail keywords 25h a day?
Then go with SEMrush as you can't beat their KW tool and its Keyword Magic. And click here to learn exactly what it is.
Are you some who want a little bit of everything and is on a tight budget? Then go with Serpstat as it's got your back.
With it, you'll be able to:
Do keyword research
Basic backlink analysis
Competitor analysis
Site audits
And all on the cheapest plan, which costs just $69 per month. You can save 25% using BforBloggers on annual plans as well.
#6- Is Serpstat Better Than SEMrush?
I have an answer for you. Read the detailed comparison below to find out:
Serpstat vs. SEMrush- Which is a Better Tool?
Conclusion
Serpstat may not be THE SEO tool on the market today, but it sure is good enough to replace pretty much any other tool, and it's core features.
So, if you're a newbie who wants an SEO tool but doesn't know which one to choose- pick Serpstat and sleep comfortably at night.
And if you already have the entirety of internet marketing in your little finger but don't want to invest in a dozen tools that will make life complicated fast- get Serpstat because it's an adequate replacement for nearly all of them (perhaps also get Ahrefs for backlink analysis too).
And if you're on a tight budget and don't care about quality as long as it fits your tight budget then get SERPstat because it will exceed your expectations by a wide margin.
It truly is an excellent SEO tool.
You've read my Serpstat review, now get going and take action on what you've learned!.
You'd also like to read:
11 Topic Finder Tools To Find Ideas For Your Next Blog Post
Best Competitor Analysis SEO Tool
If you've any questions, you can ask them in the comments.