Whether you are setting up a hotel directory, Travel Destinations directory, a Business directory, or any other directory for your preferred niche market, you will need an extensive and professional directory plugin that can help create, manage and monetize your directory site.
GeoDirectory – Black Friday Sale 2016
All Addons, Themes and Memberships with a 33% discount with code: BF2016
Join Now!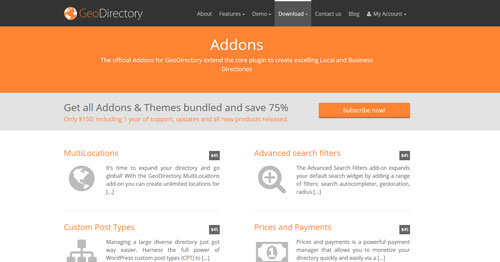 Demo | Download | More information
There are several directory themes for wordpress that can help you setup search engine friendly directory sites. Among the top wordpress directory plugins, GeoDirectory seems to offer some of the best add-ons and features. Therefore, in the course of this review, I'm going to look in to some of the unique and general features of GeoDirectory plugin that you will find interesting. So, let's begin.
GeoDirectory Plugin Review: Unique Features
Custom Google Map
While the rest of other directory plugins offer Google maps in its default style, GeoDirectory gives you the opportunity to add some pleasing aesthetics on your site. With its Custom Google Map add-on, you can customize the color and styling of your Google maps to match with that of your site.
The interface is easy to use and comes with color pickers and multiple options and features that you can pick to modify your maps. If you wish to transform your map into a branded element or to simply match it with the style of your favorite theme, then Custom Google Map is one feature you will find very useful.
Custom Post Types plugin
If you are tired of your default listing category, then Custom Post Types add-on is another feature you will like. CPT allows you to offer and easily manage large and diverse listing categories. Every new listing you create with GeoDirectory automatically becomes a custom post.
In addition, each CPT created has its own dedicated sidebar menu as well as management system. And it does not stop there. You can use the CPT add-on together with Advance Search Filters add-on to perform per post type search or to apply search filters per post type. This integration is essential, especially when you want to give your users a very granular search.
=>> Get all Official Addons & Themes and save 75% <<=
Advanced Search Filters
This is another great and unique feature. Advanced Search Filters is an add-on that expands the default search widget. It actually adds a range of custom filters to the widget. Some of these filters include search autocompleter, geolocation and radius. Actually, Advanced Search Filters provides three search field options. We have the "Near me" field which allows users of your site to search within a specified radius by sharing their location.
On the other hand, there is the custom field search option which gives you the opportunity to filter search results based on the custom fields that you have created and added to your listings. Therefore, if you are looking for a way to narrow down your search results based on some specific fields of your choice, then you will definitely like this option.
Last but not the least; we have the custom post search. Like I mentioned earlier, CPT integrates well with Advanced Search Filters add-on which only means that you can filter search results by custom fields of any custom post type you have added to your listings. All in all, Advanced Search Filters is one of the add-ons I believe you will find very useful and indeed unique.
Event Manager
I will not really call it unique but Event Manager add-on is definitely an interesting feature that you will actually like. This add-on allows you to create and feature events in your directory. Using Custom Post Types and Event Manager Add-on, you can create CPT Events, that is, by just adding time and date to a standard listing.
Furthermore, unlike in many other themes, Event Manager add-on makes sorting of events a lot more easy. You can simply sort events as either "past," "today," or "upcoming." In fact, with each Event being a CPT, you will be able to add sort options and custom field just like in any other CPT.
=>> Get all Official Addons & Themes and save 75% <<=
GeoDirectory – Black Friday Sale 2016
All Addons, Themes and Memberships with a 33% discount with code: BF2016
Join Now!
GD Booster
According to research by Statistics Brain Research Institute, humans' average attention span is about 8.25 seconds. With this in mind, then you realize that a slow-loading site can chase away users faster than anything else. With GD Booster add-on, you can significantly improve your load time and page speed by just checking the option to add the functionality. It's an interesting tool that actually uses the latest and smart caching and compression methods.
This GD Booster add-on ensures that your GeoDirectory listings does not slow down your site no matter how much you chose to add. A point to note here is that GD Booster should be used exclusive without any other third-party caching plugins.
WP GeoDiectory Review: Other Add-ons and Features
Location Manager
Payments Manager
Claim Listings
Marker Cluster
Buddypress Intergration
MultiRatings and Review
GD reCAPTCHA
Social Importer
Ajax Duplicate Alert
Stripe, PayFast and SagePay Payment Gateways
AffiliateWP Integration
Franchise Manager
List Manager
Themes such as GeoDirectory Framework, Whoop! And so much more
GeoDirectory review: Cons
Although GeoDirectory plugin comes with a horde of very useful add-ons and features, I would wish to see a feature that allows users to be able to register while submitting their listing, not before. Nevertheless, this is by far one of the best WordPress directory plugin.
GeoDirectory Review: Conclusion
With up to fifteen advanced add-ons and powerful features, GeoDirectory plugin is a heavyweight especially when it comes to functionality and customization. It makes it super easy to set up and manage any kind of directory website. It is free and a great choice for anyone wishing to create a web directory.
GeoDirectory Discount Coupon Code:
=>> Get all Official Addons & Themes and save 75% <<=
GeoDirectory – Black Friday Sale 2016
All Addons, Themes and Memberships with a 33% discount with code: BF2016
Join Now!