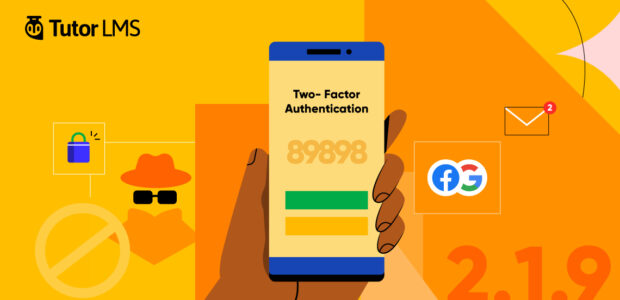 Good day to all Tutor LMS users! We are here with the updated Tutor LMS v2.1.9 to bring many exciting new features that we can't wait to share with you. With a strong emphasis on enhancing security and authentication for login/signup portals, this update offers a range of new functionalities.
From two-factor authentication (2FA) support to social login, Tutor LMS v2.1.9 delivers a powerful punch, and we're thrilled to walk you through all the exciting new features.
Let's dive right in!
Tutor LMS v2.1.9 Changelog:
New: Introduced Social Login to let users register & login through social networks like Facebook or Google.
New: Introduced Email verification option upon signup, which will be applicable for new student or instructor registration
New: Introduced reCaptcha and HoneyPot as Fraud protection tools
New: Two-Factor Authentication with Email OTP added for Tutor and WP logins
Update: Latest WordPress 6.2 compatibility introduced
Update: Some Performance optimizations across the plugin
Update: Translations improvements for better compatibility
Fix: Content Drip "Course content available sequentially" not working on the mobile device
Fix: Backend assignment page was showing pagination even if there was no content.
Fix: When admin changed the status of an instructor from the instructor list, it generated a console error
Secure Your eLearning Site With New Authentication Features!
Tutor LMS's new authentication features are designed to provide you with maximum security! We believe the features are going to be a game-changer and we hope you love it as much as we do.
The Authentication settings tab is available only in the pro version of Tutor LMS. It allows instructors to protect their eLearning platform from spammers and fraud. There are four new settings in the Authentication tab:
Two-Factor Authentication
Fraud Protection
Email Verification 
Social Login
To go to these settings navigate to Tutor LMS Pro > Settings > Authentication.
By default, all options are disabled because they can conflict with the cache or third-party security WordPress plugins. You need to first exclude the login and registration page from the cache plugins you're currently using and then enable the authentication options according to your needs.
⚠️ WARNING: Please be aware that enabling the Authentication features in Tutor LMS may result in a conflict with cache or third-party security WordPress plugins. To avoid any potential issues, it is recommended that you do not cache the login and registration page of your Tutor LMS site.
Refer to the video below to learn how to exclude a specific page from the LightSpeed Cache plugin. Keep in mind this process is similar to other caching plugins as well.
Add a Second Layer of Security With Two-Factor Authentication
Create a layer of trust with the shiny new Two Factor Authentication feature! Two Factor Authentication or 2FA is used to add an extra layer of security to logins for your LMS site. If you enable 2FA verification, users will get an email with a 6-digit OTP along with a verification link on their email.
You can also set the Method for 2FA, right now, we are offering only the Email verification method. Then choose the locations where you want to add this Email verification method from the dropdown menu.
There are three options to choose from:
Tutor Login: Enabling this will add the 2FA verification on the Tutor Login page.
WP Login: Enabling this option will add 2FA verification only in the WordPress admin login.
Tutor & WP Login: This option will set 2FA verification on both the Tutor Login page and the WordPress admin panel login page.
You can request another OTP after 1 minute if you don't receive the OTP or if the OTP expires.
Tip: You need to set up the SMTP server properly to send the Email OTP.
Maximize Protection With the All-New Fraud Protection
Gear up for the just-out Fraud Protection feature of Tutor LMS. Your eLearning site just got a great defense against online attackers. Enabling the Fraud Protection option will protect your Tutor LMS site logins and registrations from spammers and bots.
When setting it up, you can choose between two different methods:
HoneyPot –  which creates a hidden text input field to trap bots
Google reCAPTCHA – requires users to complete image recognition challenges or click a checkbox to prove they are not bots.
Google reCAPTCHA offers two versions v2 and v3, we recommend using reCAPTCHA v3 as it is the latest method. reCAPTCHA v3 also does fraud protection under the hood. The protection will happen behind the scenes without the user seeing anything.
When you select either of the methods you will have to enter the corresponding site key and the secret key. Learn how to get the reCAPTCHA Site Key and Secret Key.
You can set this fraud protection checkbox for the Tutor Login, Tutor Registration, WP Login & WP Registration pages.
The New Email Verification to Ensure Authentic Signups
Prevent spam and fake account signups with the new Email Verification feature of Tutor LMS! Ensure that all users are legitimate by enabling email verification during the instructor and student signup process. With Email Verification enabled, the new student or instructor will get an automated email to verify their signup.
Simplify the login process and make it more convenient for users with social login options! Use the Social Login feature to let users log in to your site through social authorization.
To have the Social Login option on your Tutor LMS platform, you must first enable the Social Login add-on, which can be found in Tutor LMS Pro > Add-on.
This add-on adds the Social Login options to the Authentication tab. Toggle to enable Google login, and enter your Google Client ID. Similarly, toggle to enable Facebook login, and enter your Facebook App ID.
We have added Copy Redirect URL buttons to ease the setup process for getting the client and app IDs. Follow along with the documentation to find out how to get the Google Client ID and Facebook App ID.
Wrapping Up
So that's all folks, we are so excited for you to try out all these new features added to Tutor LMS v2.1.9. With these new authentication features, Tutor LMS provides the flexibility and security you need to create a safe, user-friendly online learning environment.
So why wait? Update today and take your Tutor LMS site's security to the next level!
With every iteration of Tutor LMS, we strive to address our user's issues and make their experience with Tutor LMS all the better. So take it out for a spin and let us know your feedback in the comments and have a good one!
Source: https://www.themeum.com/tutor-lms-update-v2-1-9/