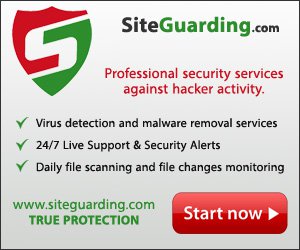 Running an online business or website can be really fun. You can create your own profits and you can be your own boss. One of the biggest threats to your website is the hacker. Hackers put both you and your customers at risk of having personal and financial information stolen. To protect yourself you should use a great security tool like SiteGuarding.com. Our SiteGuarding review will tell you everything that you need to know.
SiteGuarding Review – Great Antivirus and Antimalware Software
What Is SiteGuarding?
SiteGuarding is the best security tool that you could use for your own website. SiteGuarding.com has great antivirus and anti-malware software to keep websites free of online attacks and data theft.
The security pros at SiteGuarding provide up to date security to give you the safety that you need. SiteGuarding utilizes state of the art technology to get the job done. It gives you access to security experts. It scans your website daily and removes all threats too. To test it out you can always try SiteGuardingfor a trial period of 14 days.
This security service has many different features and security packages for you to choose from. You can have your website scanned for free to see if there are any threats present.
In the next part of our SiteGuarding review let's talk about the services some more.
Services Offered By SiteGuarding
SiteGuarding has some really great features. The people who provide these security packages do their best to ensure that your website is threat free. It also makes your website safe and protected against online threats and attacks. Every feature provided by SiteGuarding is listed below.
     1. Scanning And Monitoring
One of the things that SiteGuarding does very well is to scan and monitor your website for any inconsistencies, threats, and other security issues that your website may have. SiteGuarding can perform scans and monitoring on the server end to ensure that there are no security threats on the server.
One of the main things that this great security package provides for your website is malware detection and removal in order to ensure that you, your employees, and your clients are not hacked and infested with malware that could potentially cause very serious issues.
Something else that is really great about the SiteGuarding Scanning and Monitoring feature is that it has the ability to send the user email or SMS notifications to notify them of any changes or perceived threats found when scanning your website. This scanning and monitoring are done every single day so that website owners can be sure that they are providing a safe environment for customers and viewers. Another really cool feature about this great security software is that it allows you to have access to engineers and website security specialists who will help you fix your security issues in no time at all.
You will also be given a daily, weekly, and monthly summary in terms of your security status and anything that has happened over that given time period. One of the most important features of SiteGuarding is that it creates backups of your website in order to ensure that you always have a starting point and a saved version of your website and all of the info on it in case that something goes wrong.
     2. Malware Removal
Malware removal is an essential part of every website because as soon as your website gets infected with malware all of your information, payment details, and all other aspects of the site get compromised. It puts both you and your clients at risk of having your identity and payment information stolen. One of the best features of SiteGuarding is that you get access to consultants, engineers, and security experts in order to have all of the details that you need to keep your website safe and free of malware.
SiteGuarding helps people and their websites by fixing various bugs that previous hackers may have exploited in order to find their way onto your website in order to steal your info. If your site has a bug SiteGuarding will find it and exterminate it. This security software helps keep your website clean and malware free by utilizing the best of security software and the best experts in the field. Another crucial aspect of SiteGuarding is that they help to prevent future attacks by using great security features and fixing old problems that previously let people hack your site.
SiteGuarding helps to remove malware really fast and they do it 24/7. Perhaps the best part of their services is the fact that the offer a results in guarantee, which means that if they do something wrong or don't do as much as they should have which then resulted in a security breach, they will fix it for free and do everything in their power to right the wrong.
     3. Website Antivirus
SiteGuarding provides some of the most comprehensive and complete antivirus solutions for your website no matter how extensive it is and no matter what the security threats are. Their security package includes a great online tool to check all of your files to make sure that they have not been invaded and hacked by various harmful viruses. Speaking of viruses there is also a comprehensive database of all known viruses which gets updated on a daily basis with all new viruses so that SiteGuarding is always on top of the new threats to your website. Any registered virus will be recognized and stopped by this great security software.
SiteGuarding also contains a very advanced heuristic algorithm that helps to detect new, unknown, and unrecognized viruses in order to provide you with the most protection possible. Another great antivirus feature provided by SiteGuarding security packages is the daily cron feature. This provides for daily security scans of your website in order to detect any potential viruses or threats. Of course, there are also always experts present that help to remove any viruses that the antivirus programs themselves couldn't handle.
     4. Security Extensions
Some other really neat features that SiteGuarding provides is custom website development performed by certified experts that use safe and stable coding to build your website from the ground up in order to ensure that no malware or viruses can threaten your website. One of the really great things about SiteGuarding is that it is compatible with most popular CMS such as Word Press, Drupal, Magneto, Bulletin, and many others. This is required because many people create their websites using those platforms.
These security extensions provided by SiteGuarding help to prevent hacker attacks, specifically to the administration area of your website. The admin section of your website needs to be protected at all times because if your info gets hacked then the hackers will have access to everything. SiteGuarding also helps to prevent any and all brute force attacks that may be launched against your website.
What makes SiteGuarding Different?
Their tools set themselves apart from all other vendor products by not adhering to an update schedule. The release of a virus update is immediate once a new threat appears and is analyzed.
They have their own virus monitoring service and analytical laboratory. This provides a rapid response to latest threats and allows us to solve any problems of customers in a few hours.
You will get 24/7/365 professional support from our security experts.
Strong and unique Heuristic algorithms to detect unknown viruses and new threats.
Deep scan of each file on your website and unique security solutions can guarantee that your website will be up all the time and protected.
They don't use only automatic scans and methods. Every website they clean manually to get results that are more accurate. Help to remove your website from blacklists.
Ther security tools can work on any type of servers (shared, VPS, dedicated) and any CMS (Content Management Systems: WordPress, Joomla, Drupal and etc) and custom developed websites and web applications.
How SiteGuarding Works?
Dedicated SiteGuarding server: SiteGuarding server keeps and manages all the monitoring, analyzing and notifications functions. For all communications between your website and server, they use SSL (Secure Sockets Layer) protocol. All information about your website is encrypted and secured.
Server-side scanning & Monitoring: SiteGuarding monitoring service creates a snapshot of your site and performs deep website scans of all the files if something changed, e.g. new files appeared on the website or someone has modified the file content you will be immediately notified.
Malware detection: Their website scanner intelligently crawls your website and identify all possible infections/malware and backdoors on your website (Hidden & Malicious iFrames, Backdoors, PHP Mailers, Cross Site Scripting (XSS), SQL and JavaScript injections and etc.)
Notifications & Alerting: Every day you will get the summary report of all the changes on your website. You will get enough information so that you can take immediate action if it's necessary. You don't need to be an expert to understand what report will say, we will analyze and summarize everything for you.
Malware removal: Their security experts and engineers ready to find and remove any malware and backdoors on your website, fix the bugs in the code to prevent the possibility for the hackers get access to your website in the future.
The website is clean and protected: In the result, you will get clean, protected and stable working website. You will NOT lose your visitors, reputation, and search engines ranks.
Security Packages Offered By SiteGuarding
There are a number of different security level packages that you can choose from, each which offer their own unique features. There is the basic, the standard, and the premium security packages. Here is what each of them entails:
     1. The Basic Security Package
The basic package is the lowest level of security that SiteGuarding provides, but none the less it is still a great package. The basic package includes an antivirus solution that uses a heuristic algorithm to detect unknown viruses, server side scanning and file share monitoring, virus detection, attack detection, hack and injection detection, daily file and website scans, an analysis of all changes, email notifications, a 24 – 48 hour response time, consultation with experts, and 5 percent off of your yearly payment. This package is ideal for small personal websites. It does include a maximum analysis of 10,000 files.
     2. The Standard Security Package
This great security package includes a great Professional heuristic algorithm to detect unknown viruses, server side scanning and file monitoring, virus and attack detection, hack and injection detection, a daily analysis of your website and any changes, a once monthly malware cleanup, malware removal from already hacked websites (with a yearly subscription), server log analysis, issue investigation, blacklist removal, notifications and email alerts, free professional consultation, a maximum response time of 24 hours, and 10 percent off of the yearly payment price. This package includes a maximum analysis of 25,000 files and is ideal for medium personal and business websites.
     3. The Premium Security Package
This is by far the most comprehensive security package offered by SiteGuarding.com and it is perfect for all large scale personal and business websites. It features a professional premium heuristic algorithm to detect all new and unrecognized viruses, website firewall analysis and attack prevention, server side scanning and file share monitoring, virus and attack protection, hack and injection protection, hourly and daily file and website analysis, daily website change analysis, malware removal from already hacked websites, complete malware cleanup, server log analysis and issue investigation, blacklist removal, blacklist monitoring, website script and code analysis to prevent future attacks, the fixing of bugs to prevent future attacks, website backup, email and SMS alerts, protection for 2 sub-domains, a 3 hour response time, high priority analysis and cleaning, and 15 percent off of the yearly subscription price.
What SiteGuarding Security Scanner Compatible With?
SiteGuarding security tools can work on any type of servers (shared, VPS, dedicated) and any CMS (Content Management Systems: WordPress, Joomla, Drupal, Magento, PrestaShop and etc) and custom developed websites and web applications.
Benefits Of Subscribing With SiteGuarding
If you own your own eCommerce website or any other kind of website where security is crucial then you should definitely consider signing up for any of the SiteGuarding Security Packages. Through great features like heuristic virus detection algorithms, daily scans, and analysis, 24/7 customer support, malware and virus removal, and access to the best consultants and security experts you can rest assured that your website and all of the personal and financial information it contains will be free from attacks and secure against hacking from cyber criminals.
Don't ever let your website be at risk of getting hacked again and don't ever let your info get stolen again. Use SiteGuarding.com to protect yourself and your customers from unwanted threats.
If you are going to purchase SiteGuarding, don't forget to try some SiteGuarding Coupon Codes to save addition money.
Hope that is SiteGuarding review helpful for you. If you have any additional review about SiteGuarding, don't hesitate to contact us or leaving us at the comment!