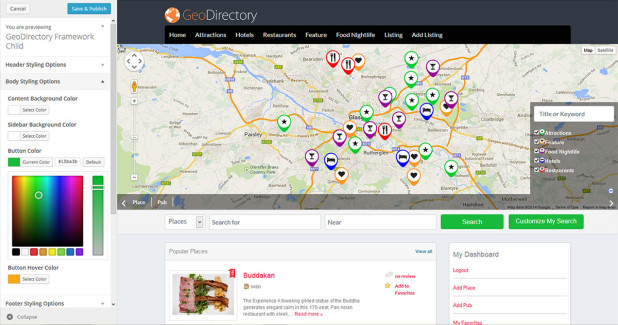 You're ready to level up and make your own awesome child themes! GeoDirectory Framework (GDF) is where you begin. Use GDF alongside the GeoDirectory plugin to create a complete WordPress directory theme. Or use GDF on its own — the choice is yours.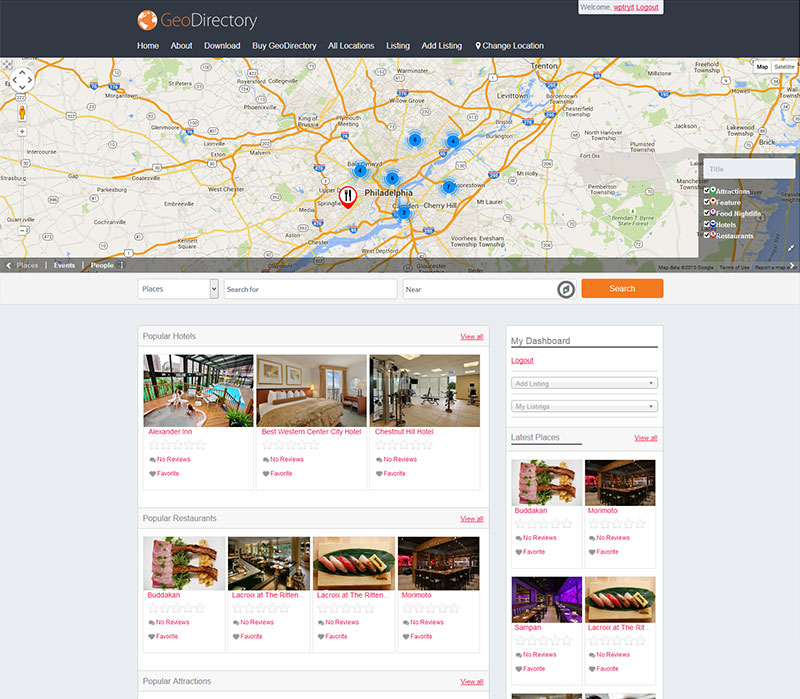 Making child themes couldn't be easier, using GeoDirectory Framework as a solid base foundation. Just enable and disable widget areas, then style almost any area of your website from within the Framework Options Page.
To give you an extra helping hand getting started, we've made a number of child themes ourselves — we'll begin releasing them soon.
Responsive Layout.
GeoDirectory Framework is 100% responsive. It adapts perfectly to any device or screen resolution. Both site menus automatically change to mobile menu versions on small screens.
Screenshots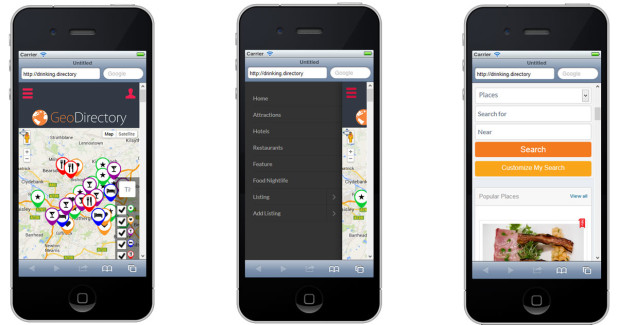 Customizer Ready
GDF is 100% Customizer-friendly, for quick theme styling on the fly. Just navigate to the WordPress Customizer to change options and see a live preview of your changes.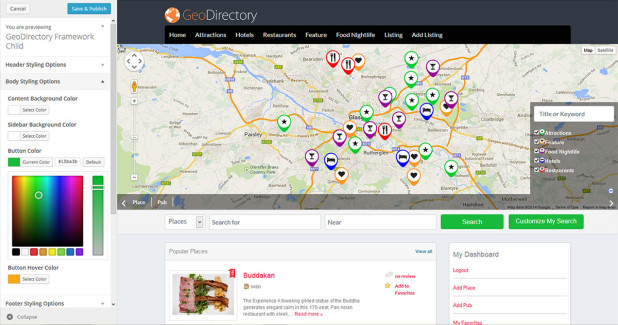 GeoDirectory Framework Pages
The GDF framework was designed to work with the GeoDirectory plugin, so every plugin page looks great on GDF right out of the box. However, you can quickly alter the look and feel of your pages, either via the WordPress Customizer or via the inbuilt options pages—all without editing a single line of code.
Want to go further? We don't recommend editing plugin files directly. If you want to modify the plugin templates, then you should first copy them from wp-content/plugins/GeoDirectory/templates into a fodler named geodirectory inside your child theme and edit the code there. You can add CSS to the child theme style.css file.
GeoDirectory Framework Main Options Page
Set the website layout width in this page of the GDF Options interface. Choose a fluid or fixed-width site. The home page top section, which normally contains the map, can be edited separately if needed.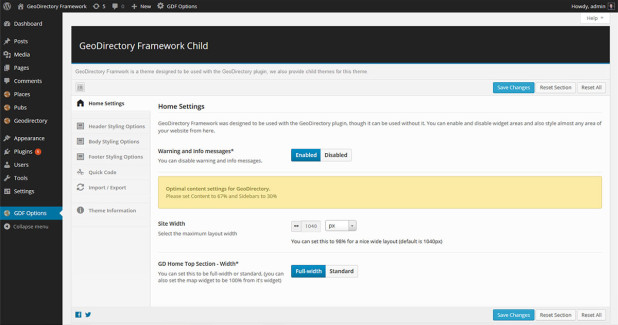 GeoDirectory Framework Header Options Page.
Head over to this page of the GDF Options interface to choose options for the header elements:
Site Logo
Site Logo Margins
Site Title Text
Tagline Text Color
Header Background
Header Gradient Color Option
Menu Font
Menu Background Color
Menu Gradient Color Option
Sub Menu Background Color
Sub Menu Border Color
Menu Border Option
Menu Button Border Option
Menu Border Radius
You can also set options here for the Admin Bar and for Mobile.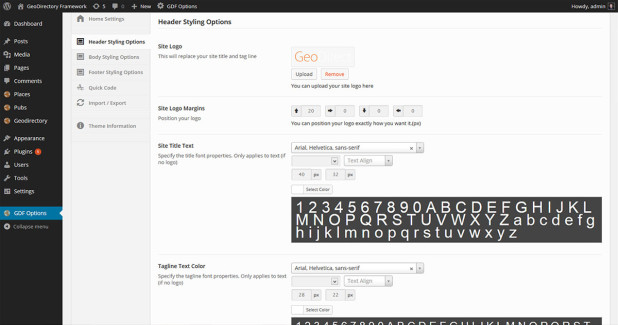 GeoDirectory Framework Body Options Page.
Head to the Body Options page to choose options for elements outside the header:
Body Background
Body Gradient Color Option
Content Background Color
Sidebar Background Color
Button Color
Button Hover Color
Body Font
Links Color Option
Menu Gradient Color Option
Body h1 Font
Body h2 Font
Menu Border Option
Body h3 Font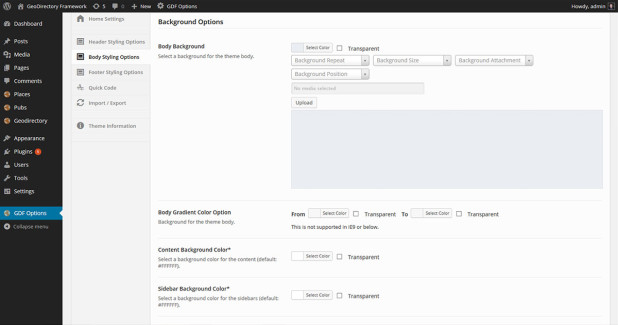 GeoDirectory Framework Footer Options Page.
Style elements in your footer using the Footer Options page:
Footer Background
Footer Gradient Color Option
Footer text Color
Sidebar Background Color
Enable footer widget areas
Button Hover Color
Copyright text