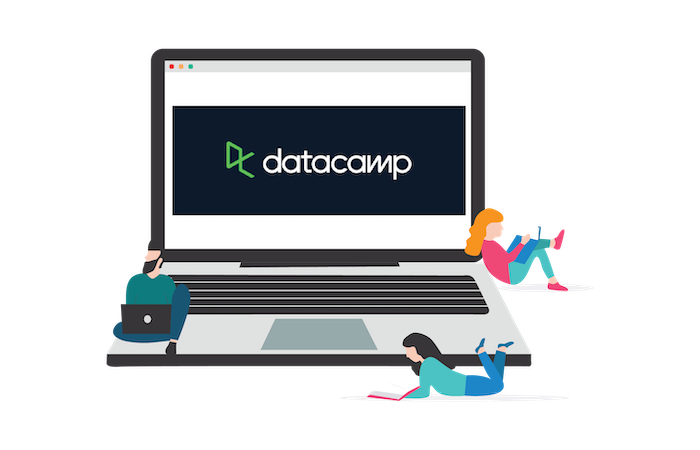 Established in 2013 DataCamp is an online platform that specializes in topics like data science and analytics. It offers 350+ courses taught by one of the 260+ expert instructors from Datacamp itself and top Institutions like Duke University.
So if you are someone who is looking to build or deepen your data skills, then DataCamp may be the right online platform for you. All its courses are interactive and designed, so you can learn at your own pace.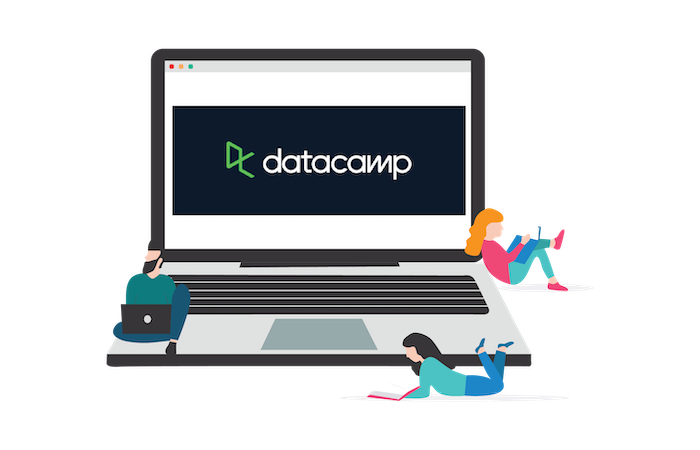 If you are anything like me, then you probably have a bunch of questions you want answering like: What courses does DataCamp offer? Is it ok if I am a complete beginner? What's the difference between its plans? 
To answer these questions and more, let's dive into our in-depth DataCamp review.
Interactive & Engaging: DataCamp courses focus on interactive learning, with many videos and engaging exercises to complete.
Experienced Experts: Over 260+ experts from the data science and analytics community.
Free Plan: Offering a Start For Free plan which gives you access to initial chapters of courses and assessments.
Clear Pricing Plans: A clear and simple pricing plan page which is pretty refreshing as not all online platforms are so transparent.
Wide Range: DataCamp caters to absolute beginners and learners with some knowledge. There is something for everyone.

Cons

Not a Verified Certificate: DataCamp doesn't offer a verified certificate from a partnered University or Organization. Instead, a Statement of Accomplishment is given once successfully completing the course. If you are looking for a verified certificate it is best to check out platforms like Coursera or edX.
Video Content Lacking Detail: Some of DataCamps video tutorials are a little short and lacking in detail, and therefore may leave you feeling like you are missing something.
DataCamp Review Verdict
Datacamp is an interactive learning platform that teaches topics related to data science. The engaging and bite sized design of its courses are appealing to beginners and learners looking for active content. Its courses and track programs focus on gaining new skills and career paths. The platform works on monthly or yearly subscription plans which can be canceled at any time.
Who Is DataCamp For?
You may be a little unsure if DataCamp is the right platform for you?
Well, let me explain a little about what to expect from DataCamp. It's an online learning platform that focuses on learning data skills at your own pace. Its learning methodology is broken into a 4 part process: Assess, Learn, Practice and Apply, that helps to give learners a well-rounded learning experience.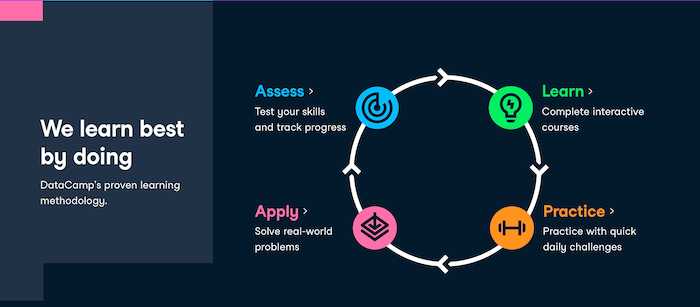 DataCamp Courses
Its 350+ courses are bite sized and digestible for learners, combining videos with interactive exercises to create an engaging learning experience. Its courses fall into 3 main areas, including learning a new technology, launching your career and mastering a specific skill:
Learn a new technology: By following short videos that are led by expert instructors, and then practice what you have learned with interactive exercises. Its most popular Technology courses include Python, R and SQL.
Career Tracks: A collection of courses that are curated by industry experts to help you grow your data skills and advance your career. Its most popular Career Track courses include Data Analyst, Data Scientist and Data Analyst.
Skill Tracks: Gain specific expertises with learning a skill track, that is a collection, of course, curated by industry experts to grow your data skills. Its most popular Skill Track courses include R Programming, Importing & Cleaning Data and Data Visualization.
Keep in mind that when you earn a Statement of Accomplishment from DataCamp, that it isn't verified and if that is something you are looking for then you can check out platforms like edX or Coursera who partner with Universities and Organization to create their courses.
DataCamp for Business
DataCamp for businesses is flexible online training for every role, from non-coding essentials to data science and machine learning. It has worked with 2,000+ companies, and 80% of the Fortune 1000 use DataCamp to upskill their teams. DataCamp for business focuses on upskilling your team to make better data-driven decisions.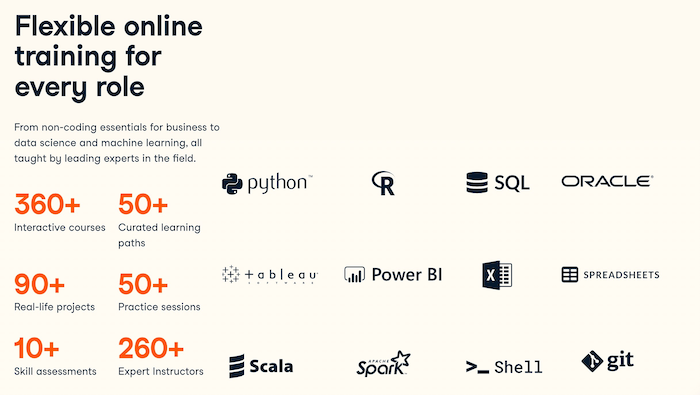 It offers a couple of different plans, the Professional or the Enterprise which you can try out with a free trial or a free demo. The Professional is designed for smaller teams and is paid for per user, per month. Whereas the Enterprise is for larger organizations and is custom priced.

Datacamp for The Classroom
Datacamp generously offers free access for educators, all you need to do is to apply to get access to your free, 1200+ hours of data science courses.
Datacamp believes in empowering students with data skills for the future, by providing free access to educators. As an educator you can create assignments for your students and can track your students growth and progress. After you have submitted your application, it can take a few days for it to be approved.
Doesn't sound bad does it?
If you're an educator in data science and data concepts and think your students will benefit from the interactive courses Datacamp offers, then check it out here.
How Much Are DataCamp Courses?
DataCamp works on a subscription model offering a variety of different plans. An individual learner can choose from one of the three personal plans. The Free account ($0), the Standard ($25 a month) or the Premium ($33.25 a month). The Standard and the Premium accounts are billed annually, the Standard subscription is the most popular amongst users. In the top right corner is a currency converter for the pricing (see image below) making it convenient for all users.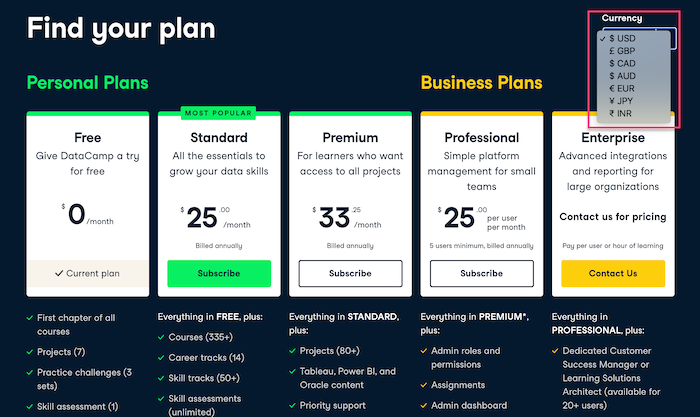 DataCamp for Business offers 2 different Business Plans either the Professional or the Enterprise. The Professional plan ($25 per user a month) and you need to have a minimum of 5 users. If you are interested in the Enterprise plan (Custom price) you can contact DataCamp for pricing here.
When making purchase at DataCamp, don't forget to checkout these DataCamp discoutn coupons to save off your money.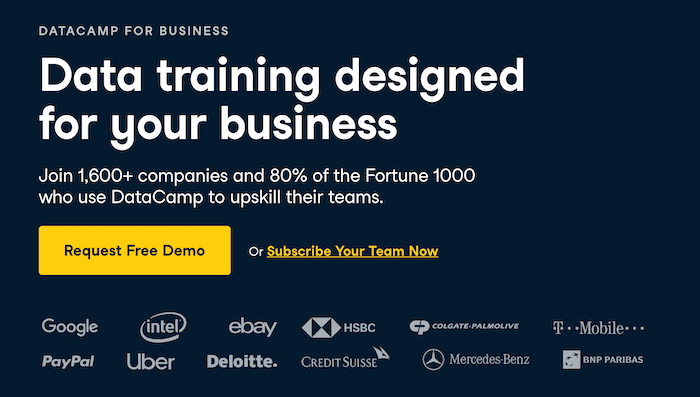 DataCamp has worked with successful companies like Google, Uber and ebay to upskill its employees and empower them with knowledge to make them the best at their job. The features your team will love from DataCamp courses include;
Create tailored learning content
Measure the impact of online training
Receive expert guidance
Provide hands-on skill building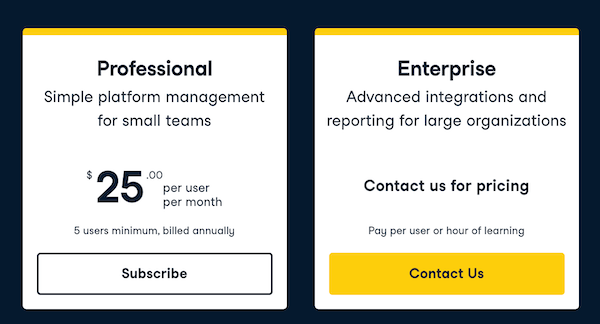 You can cancel your monthly or yearly subscription at any time and will still have full access until the end of that month or year.
How To Open A DataCamp Account?
The registration process for DataCamp is really intuitive. I still thought it would be helpful to give you a step by step of how to join.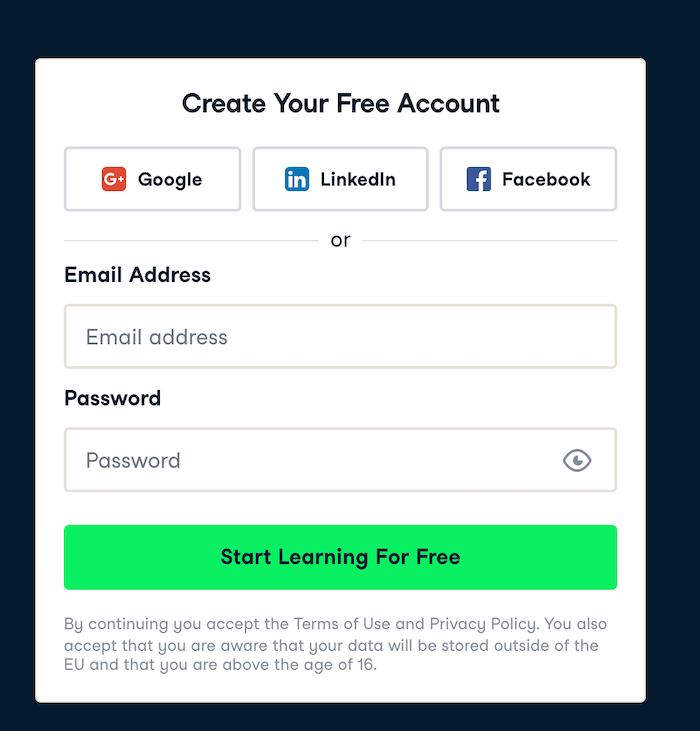 Open a browser and visit datacamp.com
You can Create Your Free Account
Either sign up with Linkedin, Facebook or Google
Or enter your email and password and click Get Started
Once you are signed up you will complete a basic profile and then be taken to My Progress where you can begin to check out various options in the left side bar like Career Tracks, Skill Tracks, Courses, Projects and more.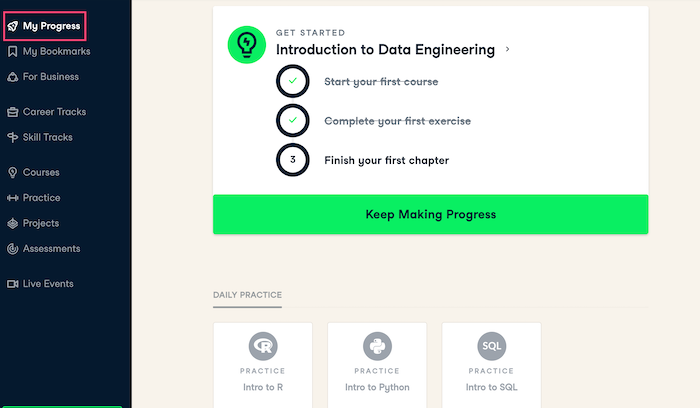 You can then begin to browse different courses. A great feature is the filter courses (see image below) where you can pick the Technologies, Topics or sort by Most Relevant and Newest. All its courses combine short expert videos with immediate hands-on exercises.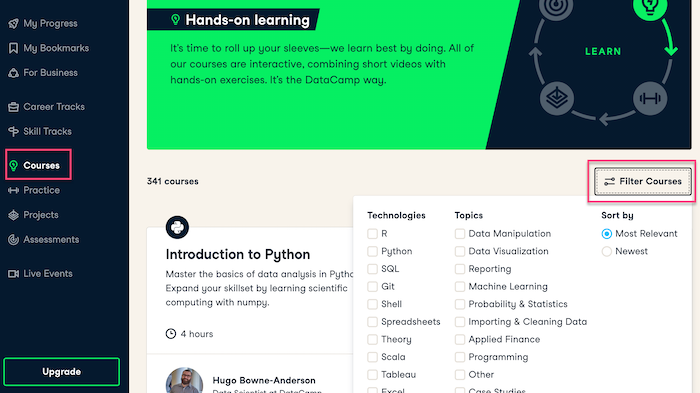 Examples Of The Most Popular DataCamp Course
I thought it would be helpful to look at the 5 most popular courses at Datacamp as it will give you good indication of what other learners are enjoying.
Data Scientist with Python – A career track that will help you gain python skills you need to succeed as a data scientist. No prior coding experience is required. In this track, you'll learn how versatile language allows you to import, clean, manipulate and visualize data. It has a 4.5 out of 5 rating and will take 88 hours to complete.
Python Programming – A skill track to gain the foundational skills to become a Python programmer. In this track, you'll learn the Python basics you need to start on your programming journey. The course instructor Hugo is a highly experienced data scientist, educator, writer and podcaster at Datacamp. It has a 4.5 out of 5 rating and will take 15 hours to complete.
Data Scientist with R – A career track that will help you gain the career-building R skills you need to succeed as a data scientist. No prior coding experience is required. In this track, you'll get hands-on with some of the most popular R packages and work on real-world datasets. It has a 4.5 out of 5 rating and will take 76 hours to complete.
Machine Learning Fundamentals with Python – A skill track where you will learn the fundamental concepts in Machine Learning. If you are a beginner, this is a great place to start. It has a 4.5 out of 5 rating and will take 20 hours to complete 5 courses.
Data Analyst with Python – A career track where you will gain the career-building Python skills you need to succeed as a data analyst. Through interactive exercises, you'll get hands-on experience with some of the most popular Python libraries. It consists of 16 courses that will take 62 hours.
> More information at Datacamp
6 Tips To Find The Perfect DataCamp Course
If you are undecided about which course is right for you. I have put together 6 tips to help you pick the best course for you.
Skill & Career Tracks
DataCamp Curriculum Team has designed learning programs called 'Tracks' there are two different types Skill Tracks and Career Tracks. Each track contains a series of courses to follow and complete for you to gain the skills and knowledge to your chosen path.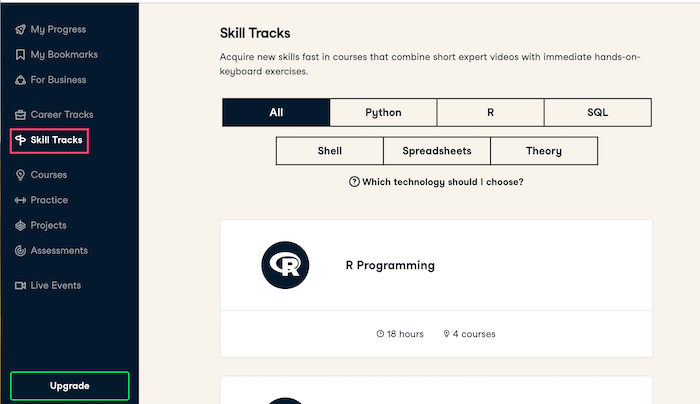 Skill Tracks range from 3-7 courses, focusing on specific complementary skills in various programming languages. Its courses have been curated for intermediate to advanced learners.
Career Tracks range from 12-30 courses, that begin with introductory courses in Python, R and SQL and cover basic skills and move through to more focused and advanced topics.
Statement of Accomplishment
Once you have completed a Track you will be provided with a Statement of Accomplishment free of charge. As long as you have successfully completed the course you are able to download it which means you then have the possibility to manually share it on your LinkedIn profile.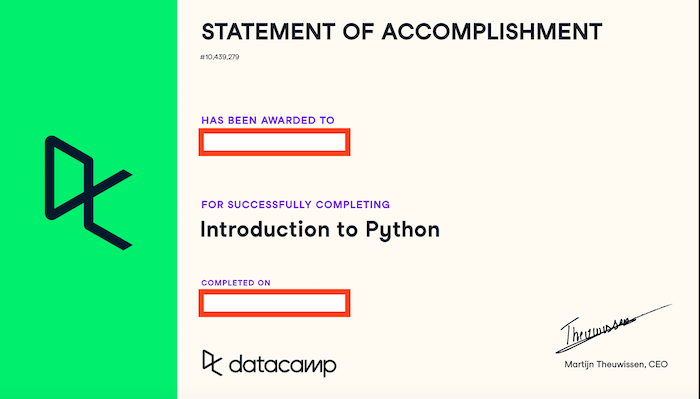 Note: DataCamp Statement of Accomplishment is not an accredited certificate, but it does show you have successfully completed a course and learnt new skills.
Free courses
With a free DataCamp account, you can access the first chapter of most courses. This is the great way to try and test out a course and decide whether you want to financially subscribe to one of its subscription plans.

DataCamp Instructor Profile
When you view a course or a track you will see on the right side of the screen the instructor and collaborators for the course. You are able to click onto their profile and read a small bio about them.
Some of the DataCamp Instructors are staff based at DataCamp who are experts in their fields and others are from Universities like Oregon State and Washington State.

I want to add here that compared to other elearning platforms that I have reviewed the instructor profile feels a little sparse and limited. If you are looking for a more detailed instructor profile and links to their social media then it's maybe worth checking out Coursera or edX.
DataCamp Assessments
DataCamp offers taking an assessment for free. You can filter by Technology (see image below) and choose your topic. You won't need to register or enter any credit card details to do this. This can be really helpful if you aren't sure on where to start or if you have some knowledge in a technology but are lacking in some areas.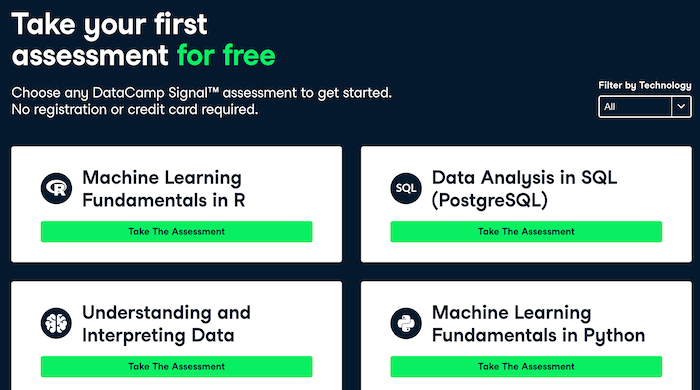 Each assessment is designed to test your knowledge in your chosen technology and will take between 5-10 minutes. After completing the assessment, you will need to sign into DataCamp to receive your results. You will then be given your results (a percentage) which are mapped on a graph of Novice, Intermediate and Advanced. A series of personalized recommendations (courses) are given to you. This is a great place to start for DataCamp newbies, you can check out your free assessment here.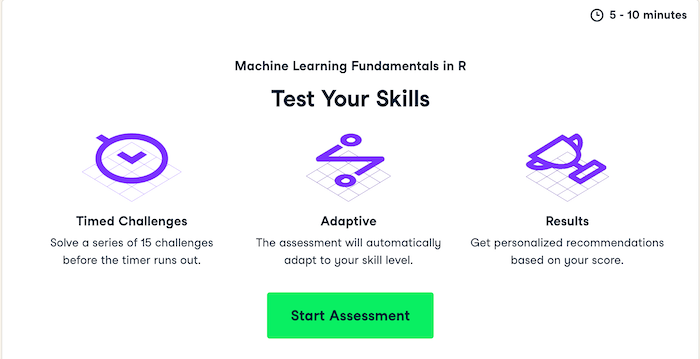 DataCamp Community
DataCamp has an active community full of news threads, a resource center, tutorials, cheat sheets, chats and a podcast. Not only is it resource rich but a great way to stay connected with other learners.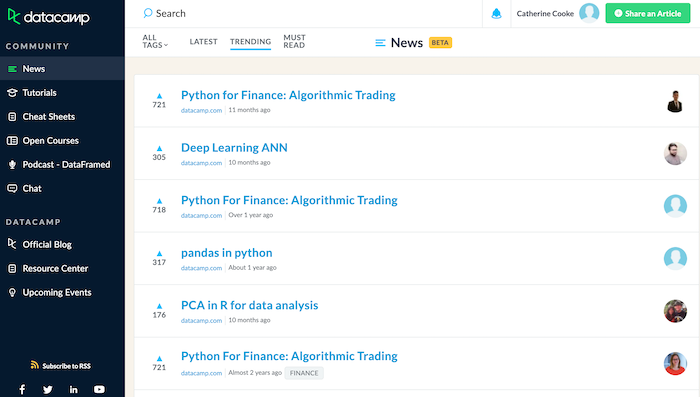 As well as a thriving community, DataCamp also has a slack community page (see image above). Some of the channels include #introduction, #jobs, #feedback which is an ideal way to engage with other learners for any doubts or questions you may have.
Criteria
Comment
Ease of use

Opening an account at DataCamp is free and really straightforward. You can either sign up via your Linkedin, Facebook, Google or you can enter your email and password.

The layout of its platform is easy to navigate around. I particularly like how easy it is to find  pricing plans from the homepage.

Convenience

Its courses are bite-sized and self paced with no deadlines which means learners can study anywhere and at any time.

There are options to download course videos and lesson slides to view when you are offline.

DataCamp mobile app (iOS and Android) gives you access to your current lesson and the next lesson without internet connection allowing you to study on the go.

Available platforms

DataCamp courses are 100% online which you can access from a desktop, laptop and mobile.

DataCamp now offers mobile-only subscription for both IOS (4.9 rating) and Android (4.7 rating). Mobile subscribers will have unlimited access to the DataCamp app's mobile courses, practice exercises and daily streak (they call them XP and it is a point system based on how well you are doing and how engaged you are with DataCamp).

Official certifications:
DataCamp offers a free Statement of Accomplishment when you have successfully completed a course. This is not an accredited certificate but you are able to share it on your Linkedin.
Categories

DataCamps offers close to 350 courses which specialize in topics about data science technologies like R programming and Python. DataCamp is constantly adding new courses and they keep current courses updated with the latest technologies and methodologies. On its platform it offers Current courses and Upcoming courses for learners to view.
Free courses

DataCamp offers a free subscription plan on a select number of courses which give you access to its first few chapters.

As well as access to its first chapters of all courses you can also access projects, practice challenges and skill assessment.

Content quality

Datcamp suggests that an instructor spends 10-30 hours over 6-8 weeks to create a course.

An instructor will work closely with one of the Curriculum leads at DataCamp to determine topic and produce the content with a Content developer who will help the instructor and provide feedback. Once the course launches, data will be shared with how learners are engaging with the material and how it can be improved over time.

The content of its courses are closely followed and to the highest standard.

Languages

Datcamp course videos are only available in English, but with subtitles in the following languages; Chinese, French, German, Italian, Japanese, Korean, Portuguese, Russian and Spanish.

Note: Subtitles cannot currently be downloaded with videos to watch offline.

Instructors

DataCamp instructors are subject matter experts in data science and analytics. DataCamp works closely with its instructors (270 in total) to support them throughout the course development process, but they do take ownership of their work and the course.
Course requirements

The majority of courses follow a similar structure  that includes video content, interactive exercises, accompanying course material which is downloadable and skill assessments. Its courses are created by its instructors who closely work with the team at DataCamp.
Course structure

DataCamp courses are bite-sized classes that are based around video content with interactive exercises. After most videos you have interactive exercises to engage with. It offers close to 350 data science technology related courses.

As well as courses DataCamp has Skill and Career Tracks which are designed with a combination of different courses to give you the knowledge for that Skill or Career. If you do decide to take one of the track programs it will require a bigger commitment of time.

You are able to download video content and additional course material, which allows you to watch when you are on the go or a time more convenient for you.

Whilst learning at DataCamp you will collect XP points based on the course, exercises and other actions you complete on DataCamp. Your total of XP will appear in the top right-hand corner of your screen. If you choose the option to take a hint or show a solution, points will be deducted It's main purpose is to keep learners engaged and motivated.

Quizzes & tests

DataCamp offers practice questions and assessments for you to take to test your knowledge, but there are no formal quizzes or tests.
Payments & refunds

You can make payments on DataCamp with Credit card or Paypal. Plus certain Visa/Master debit cards are accepted.

DataCamp is a subscription service and your account will automatically renew on either your monthly or yearly subscription. You may cancel your subscription at any time. However, it doesn't refund unused portions of a subscription.

Support

DataCamp offers a support chat bot. You are also able to submit a request and can add your email address, subject and description and they will then get in touch with you.
Overall rating

DataCamp courses are comprehensive and well-detailed, they are presented in a digestible way which is particularly useful if you are a beginner. It is a great option for someone who is new to the world of data science. One thing that makes its stand out from other platforms is its Career and Skill tracks. It is definitely worth a try if you are looking to improve skills or a new career in data science and analytics.
Will DataCamp Help Me With My Career?
DataCamp courses are ideal for someone who is new to data science or someone that already has some knowledge and is looking to improve skills or even a career change.
The Skill or Career Track feature is pretty appealing if you are looking to be guided in the right direction to learn a skill or gain the knowledge for a career path in data science. The fact that these courses are put together by experts in their fields means you can be rest assured that everything you are learning is relevant.
Even though DataCamp doesn't offer accredited certificates it still provides you with a Statement of Accomplishment for free which you can share manually via your LinkedIn profile. These certificates are still recognised by industry experts working in the world of data science.
DataCamp prides itself on keeping its courses updated and relevant. Therefore it is constantly expanding its curriculum so learners can keep up with the latest in data science and analytics.
Is DataCamp Legit?
Something which most of us ask when considering an elearning platform: Is this platform legit? Will it be worth my money?
It's completely normal to have that moment of doubt as you are typing in your card details and there is no turning back. Well let me reassure you.
DataCamp was founded in 2013 as a start up company in Belgium.  The company was founded by Dieter De Mesmaeker, Martijn Theuwissen and Jonathan Cornelissen. Its headquarters are based in New York and they have offices in Belgium and London.
So, DataCamp is legit and it's safe to use, you won't be scammed.
Last Thoughts: Is DataCamp Worth It?
Ok, so let's conclude with whether DataCamp is worth it.
If you are looking to build your skills and gain knowledge in data science and analytics skills then DataCamp is a good option for you. The added feature is to follow and complete one its skill or career tracks to get the most out of your learning.
Although it does offer a certificate when you have successfully completed your course, this certificate is not accredited. So if you are looking to earn a validated certificate that is partnered by a University or Institution then its best you check out platforms like Coursera and edX as probably they are a better fit.
You will love DataCamp for its:
Interactive and engaging courses
Point system to stay motivated
Experienced instructors
Courses for beginners
Downloadable videos and course material
When making purchase at DataCamp, don't forget to checkout these DataCamp discoutn coupons to save off your money.